The Value Chain concept, first described by Dr. Michael Porter in 1985, is a series of actions that a firm—in a specific industry—accomplishes to produce a valuable product or service for the market.  The value chain notion visualizes the process view of an organization, perceiving a manufacturing or service organization as a system comprised of subsystems of inputs, transformation processes, and outputs.
Another way to define the Value Chain principle is, "transforming business inputs into outputs, thereby creating a value much better than the original cost of producing those outputs."  These inputs, processes, and outputs entail acquiring and utilizing resources—finances, workforce, materials, equipment, buildings, and land.
An industry Value Chain includes the suppliers that provide the inputs, creation of products by a firm, distribution value chains, till the products reach the customers.  The way Value Chain activities are planned and executed determines the costs and profits.
Value chains consist of set of activities that products must undergo to add value to them.  These activities can be classified into 2 groups:
Primary Activities
Secondary Activities
Primary activities in Porter's Value Chain are associated with the production, sale, upkeep, and support of a product or service offering, including:
Inbound Logistics
Operations
Outbound Logistics
Marketing and Sales
Service
 The secondary activities and processes in Porter's Value Chain support the primary activities.  For instance:
Procurement
Human resource management
Technological development
Infrastructure
Value Chain Analysis Benefits
The analysis of a Value Chain offers a number of benefits, including:
Identification of bottlenecks and making rapid improvements
Opportunities to fine-tune based on transforming marketplace and competition
Bringing out the real needs of an organization
Cost reduction
Competitive differentiation
Increased profitability and business success
Increased efficiency
Decreased waste
Delivery of high-quality products at lower costs
Retailers can monitor each action throughout the entire process from product creation to storage and distribution to customers.
Value Chain Analysis (VCA) Approach
Businesses seeking competitive advantage often turn to Value Chain models to identify opportunities for cost savings and differentiation in the production cycle.  The Value Chain Analysis (VCA) process encompasses the following 3 steps:
Activity Analysis
Value Analysis
Evaluation and Planning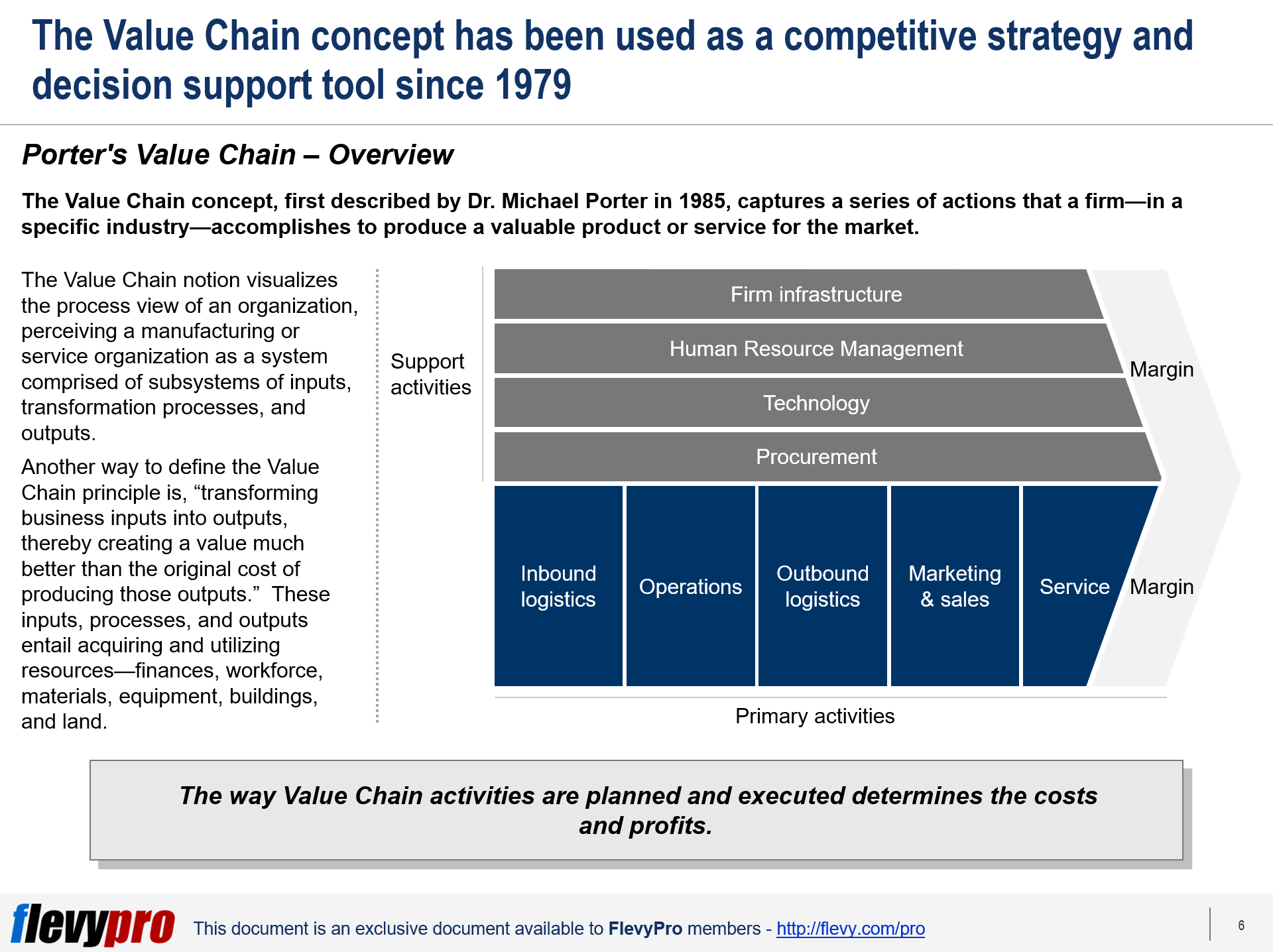 Activity Analysis
The first step in Value Chain Analysis necessitates identification of activities that are essential to undertake in order to deliver product or service offerings.  Key activities in this stage include:
Listing the critical processes necessary to serve the customers—e.g., marketing, sales, order taking, distribution, and support—visually on a flowchart for better understanding.

This should be done by involving the entire team to gather a rich response and to have their support on the decisions made afterwards.

Listing the other important non-client facing processes—e.g., hiring individuals with skills critical for the organization, motivating and developing them, or choosing and utilizing technology to gain competitive advantage.
This stage also entails gathering customers' input on the organization's product or service offerings and ways to continuously improve.
Value Analysis
The second phase of the Value Chain Analysis necessitates identifying tasks required under each primary activity that create maximum value.  This phase is characterized by:
Ascertaining the key actions for each specific activity identified during the first phase.
Thinking through the "value factors"— elements admired by the customers about the way each activity is executed.

For example, for the order taking process, customers value quick response to their call, courteous behavior, correct order entry, prompt response to queries, and quick resolution of their issues.

Citing the value factors next to each activity on the flowchart.
Jotting down the key actions to be done or changes to be made to under each Value Factor.
Interested in learning more about the other phases of the Value Chain Analysis Approach?  You can download an editable PowerPoint on Strategy Classics: Porter's Value Chain here on the Flevy documents marketplace.
Are you a Management Consultant?
You can download this and hundreds of other consulting frameworks and consulting training guides from the FlevyPro library.