Mediocre people occupying senior Leadership positions is one of the chief reasons for the fiasco and humiliation that organizations like Enron and WorldCom faced.  The practice of recruiting average people at the top is omnipresent and often goes unnoticed until the results begin to surface, which is typically too late for any intervention.
Smart people decisions matter a lot in achieving profitability.  Research indicates that a return on average human asset of 5% is typical in many industries.  However, a senior executive selection of 2 standard deviations below the average yields -15% return on asset.  An executive selection with 2 standard deviations above average causes 25+% return, which is 5 times the average.  Increased investment in finding and hiring the best senior executives fetches returns to the magnitude of 1000%.
Attracting and selecting the best people for senior leadership positions isn't a small feat.  The future of organizations depend on it.  However, not too many organizations succeed in getting the right people at the top.  The reason for this failure is attributed predominantly to 3 critical obstacles that hinder in making the right recruitment decisions at such a crucial level.  Wrong Executive Selection decisions due to these 3 obstacles bring about losses and negative returns:
Obstacle of Rarity
Obstacle of the Unknown
Obstacle of Psychological Traps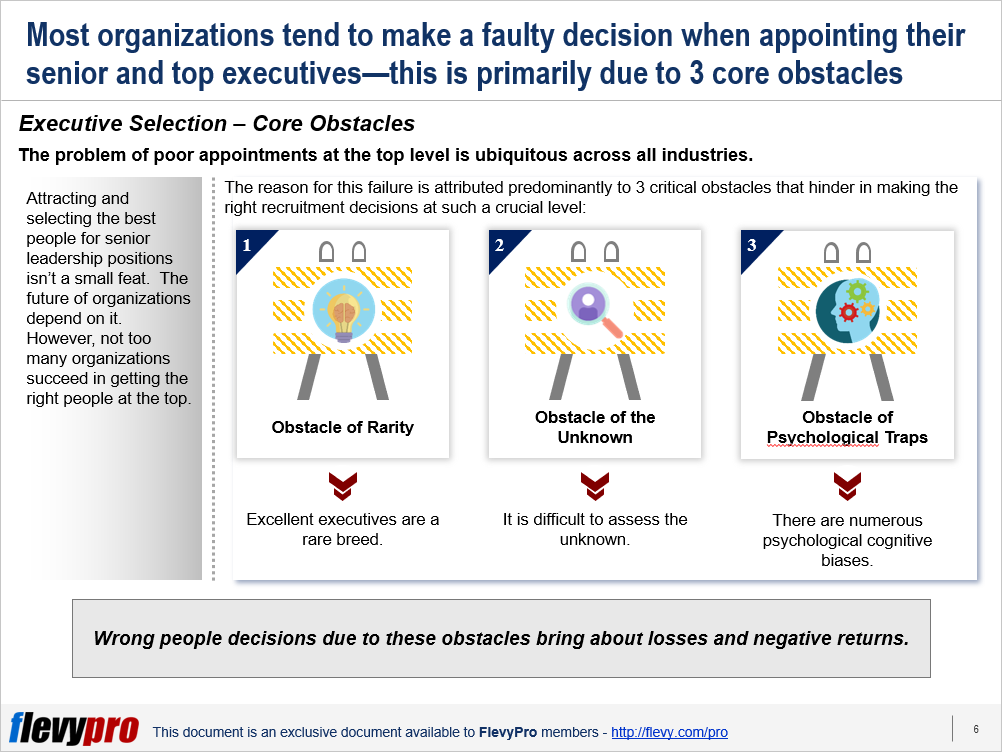 Let's talk about these obstacles in a bit of detail.
Obstacle of Rarity
The first barrier to finding outstanding executives for senior positions is their scarcity, as excellent executives are a rare breed.  Sophisticated skills that make an executive standout aren't common.  They are distributed in a given sample.
Outstanding people perform at a much higher level than that of their peers, particularly at the top positions.  A blue-collar executive with 1 standard deviation above the mean translates to 20% more productive individual than an average executive.  With increasing complexity of job, the difference between the top performer and an average performer increases considerably.
Appointments at the senior positions do not go without assessment errors, which can prove to be extremely costly.  Even an accuracy level of 90% in executive assessment isn't satisfactory.  This results in a number of mistakenly categorized top performers and rejection of outstanding candidates.
Obstacle of the Unknown
Another barrier to the Executive Selection process is the predictive assessment of candidates on the skills and attributes required and the actual delivery capabilities of the individuals.  It is difficult to assess the unknown.
Competencies at the junior levels are easier to define, but it gets difficult to pinpoint the skills required at the top level.  The skills required at the top keeps on changing due to the evolving political, technological and economic landscape.  The skills required today get obsolete over time.  In case the exact requirements for a position are fully known, it isn't certain whether a candidate meets the requirements in their entirety.
Accurate assessment of the candidates' behavior and competencies is difficult but worth investing efforts and resources.  "Soft" skills—e.g., leading people, coaching and developing teams, teamwork, and managing Business Transformation—are what differentiate the senior leaders, but gauging these skills necessitates thorough evaluation and considerable time, which is difficult at senior levels.
Obstacle of Psychological Traps
A number of psychological traps are associated with cognitive biases in humans that hinder the decision making abilities in people and incapacitate the hiring process.  8 types of psychological traps are most common in individuals:
Procrastination
Assuming incorrectly
Impulsive judgment based on first impressions
Discounting the warning signs
Covering mistakes
Bonding with familiarity
Emotional anchoring
Tendency to follow the majority
For more information on selection and hiring "the best of the best," take a look at the Fiaccabrino Selection Process (FSP) at Flevy. 
Interested in learning more about the 3 critical obstacles that hinder right Executive Selection?  You can download an editable PowerPoint presentation on Executive Selection here on the Flevy documents marketplace.
Are you a Management Consultant?
You can download this and hundreds of other consulting frameworks and consulting training guides from the FlevyPro library.