Manufacturing today entails immediate yet informed decision making.  However, with increasing levels of sophistication and production, senior leadership often has limited time to make optimum decisions pertaining to the number of unanticipated issues surfacing from time to time.  These issues—if not managed properly and timely—can lead to defects and wastes.
Top global enterprises are utilizing innovation and creative ways to enable prompt decision making.  Specifically, they are using Internet of Things (IoT) to effectively handle critical aspects of manufacturing.  Successful implementation of a Manufacturing IoT system facilitates in automating key tasks, decisions and processes; curtailing scrap and rework; and enhancing productivity.
People often object to implementing an IoT system by citing other important projects that they are already undertaking and the resource and time constraints as pressing hurdles.  To work around these limitations, manufacturers can engage 3rd party consultants having proven expertise in end-to-end successful IoT, Asset Tracking, and manufacturing systems deployment.
Implementing a Manufacturing IoT System leverages immense benefits, including:
Enhancing the ROI of other programs under way.
Streamlined and Process Improvement and Robotic Process Automation help prompt informed decisions.
Managing materials efficiently.
Adjusting to customer requirements.
Avoiding costly mistakes and rework.
However, harnessing IoT necessitates careful deliberation and planning.  The core requirements to effectively implement a Manufacturing IoT system can be segregated into 2 broad categories:
Functional Requirements
System Requirements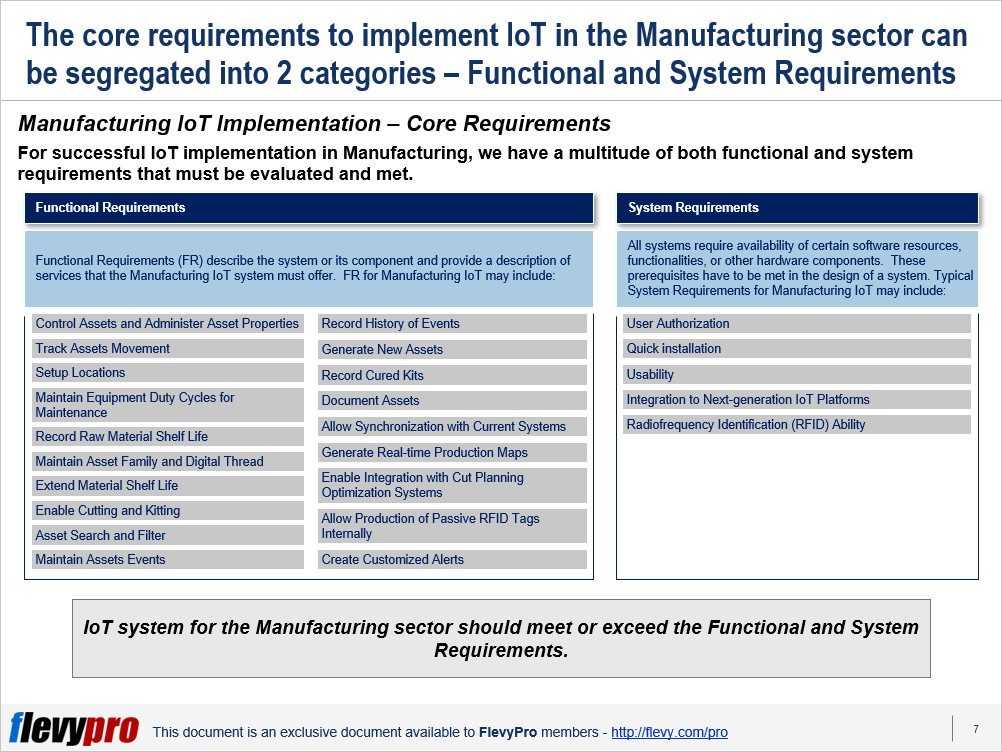 Functional Requirements
Functional Requirements (FR) describe the system or its components.  FR provide a description of services that the Manufacturing IoT system must offer.  FR for Manufacturing IoT may include:
Control Assets and Administer Asset Properties
Track Assets Movement
Setup Locations
Maintain Equipment Duty Cycles for Maintenance
Record Raw Material Shelf Life
Maintain Asset Family and Digital Thread
Extend Material Shelf Life
Enable Cutting and Kitting
Asset Search and Filter
Maintain Assets Events
Record History of Events
Generate New Assets
Record Cured Kits
Document Assets
Allow Synchronization with Current Systems
Generate Real-time Production Maps
Enable Integration with Cut Planning Optimization Systems
Allow Production of Passive RFID Tags Internally
Create Customized Alerts
System Requirements
All systems require availability of certain software resources, functionalities, or other hardware components.  These prerequisites have to be met in the design of a system.  Typical System Requirements for manufacturing IoT may include:
User Authorization
Quick installation
Usability
Integration to Next-generation IoT Platforms
Radio-frequency Identification (RFID) Ability
Let's delve deeper into some of the Functional Requirements for now.
Control Assets and Administer Asset Properties
The system should be able to manage multiple assets and add new assets.  It should be capable of:
Creating asset properties, e.g., name, ID and shipment date.
Editing property labels and show / hide asset properties.
Automatically adding materials' expiry date, "remaining exposure time," "tool autoclave cycles left," and "tool usage time left."
Trace Assets Movement
The IoT system should be able to:
Follow assets location from one site to another during the manufacturing process.
Allow integration of MAT with RFID and other floor sensors to gather real-time assets' location and condition data.
Enable asset location reporting manually, through barcode, or hybrid (barcode and RFID).
Setup Locations
The system should maintain:
Asset data from multiple sites (locations).
Assets movement to and fro various sites, reported using RFID or other sensors.
Maintain Equipment Duty Cycles for Maintenance
The IoT manufacturing system should record all maintenance needs and maintenance activity performed on an asset.  Specifically it should:
Keep data on all tools available at various sites with their duty cycles for preventive maintenance.
Maintain record and generate reports on maintenance activity preformed on a specific tool.
Record Raw Material Shelf Life
The IoT manufacturing system should:
Automatically calculate raw material and work in process exposure time and date of expiration.
Maintain assets' shelf life and generate automated screen notifications, alerts, emails, or SMS.
Interested in learning more about the details of other Functional and System Requirements of a Manufacturing IoT system? You can download an editable PowerPoint on Manufacturing: Internet of Things Implementation here on the Flevy documents marketplace.
Are you a Management Consultant?
You can download this and hundreds of other consulting frameworks and consulting training guides from the FlevyPro library.