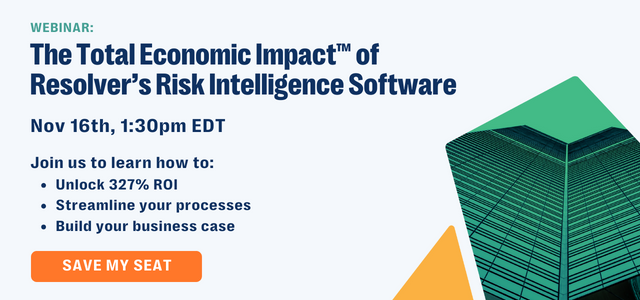 Hi Global Risk Community member, 
You're invited to join us for an exclusive webinar with Forrester on November 16, 2023, at 1:30 PM – 2:00 PM EST.(10:30 AM – 11:00 AM PST.) Register Here > 
Are you exploring Integrated Risk Management Software to enhance risk management, streamline processes, and gain strategic insights? 
In this exclusive webinar, discover how organizations like yours are leveraging Resolver's Risk Intelligence Software to achieve measurable benefits for their business. 
Learn how leading organizations implementing Resolver found:                        
A remarkable 95% improvement in executive and risk reporting efficiency  

Simplified audit, issue management, and compliance testing processes

Exclusive customer insights on achieving a remarkable 327% ROI with annual cost savings of $288K                       
Don't miss this chance to unlock the path to a more resilient future! 
P.S. Can't attend live? Register and we'll send you the webinar replay.