Peter Drucker, one of the first managerial thinkers, introduced MBO or Management by Objectives. This eventually paved the way for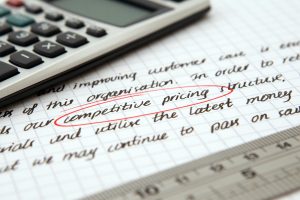 the birth of the Objectives and Key Results (OKR) management philosophy. Andy Grove, known as the "Father of OKRs", introduced the approach to Intel during the 1970s. This was further popularized by John Doer by introducing OKRs at Google in 1999.
Today, successful organizations are now using OKRs.  Objectives and Key Results is an efficient way to track company and team goals and measure their progress. It helps every organization's success by cutting out unimportant goals and focusing on what truly is important within the organization.
Objectives and Key Results (OKR) has been seen as a way to communicate so that there is clarity of purpose.  It is also a tool for motivating and aligning people to work together to achieve Operational Excellence. It increases transparency, accountability, and empowerment.
What is OKR?
 OKR or Objectives and Key Results is a popular Management Strategy for goal setting within organizations.  The goal of OKR is to define how to achieve objectives through concrete, specific, and measurable actions.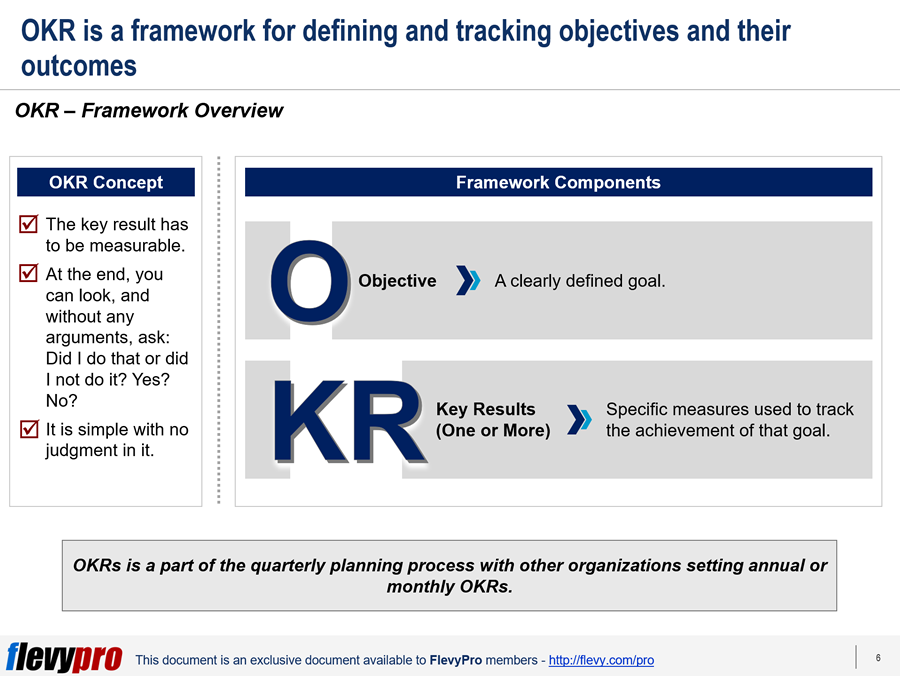 The OKR framework is structured with two framework components: the Objectives and Key Results. This is to connect company, team, and personal goals to measurable results and direct all towards one unified direction
Objectives. The Objectives consist of a list of 3-5 high-level objectives. This is supported by initiatives—plans and activities focused on achieving the objective and moving forward the key results. Setting objectives requires a lot of thought as it goes beyond making money. In fact, it must follow defined characteristics and undertaken in a well-planned approach.  This is to ensure that the objectives formulated are well-defined, focused, and achievable.
Key Results. Key Results add metrics to objectives. These are measured on a 0-100% scale or 0 to 1.0. Under each objective are 3 to 5 measurable Key Results. It measures how far from the objective your team is. It will give them a clear direction on what to do and how to do it.
Developing the right OKR requires being able to properly define your Objectives and Key Results. One way of doing this is by using the SMART goal setting model.
A Look at the SMART Model
The SMART Model ensures that organizations get to effectively develop the right OKR.  The SMART Model is the easiest way to set Key Results. Organizations just need to follow the SMART goal guidelines. Knowing what to do, as well as knowing not what to do, on an OKR journey to minimize problems and mistakes.
The use of OKR requires cultural change and change itself is difficult. But with the use of the SMART goal guidelines, organizations can get the hang of it and can be effective in its OKR journey.
Let us take a look at OKR examples that provides a clear application of the SMART model.
The first example is the use of Sales OKR. Set Objective is to increase Q2 recurring revenues. Key Results are increased average subscription size by $500 per month ($0-$1500). The second Key Result is to increase the share of monthly subscription vs. one-time contracts sold to 85% (50%-85%).
Another example is the Human Resource OKR. Set Objective is to improve internal employee engagement. Its first Key Result is conduct a monthly "Fun Friday" all-hands meetings with an external motivational speaker (0-3 meetings).
Interested in gaining more understanding of Objectives and Key Results? You can learn more and download an editable PowerPoint about Objectives and Key Results (OKR) here on the Flevy documents marketplace.
Are you a management consultant?
You can download this and hundreds of other consulting frameworks and consulting training guides from the FlevyPro library.