A company's cultural situation is challenging, multidimensional, and difficult to deal with. It constitutes a powerful set of emotional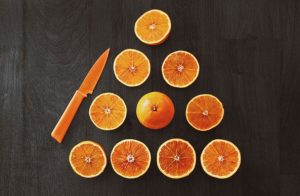 resources. To a degree, culture can be compared to natural forces such as winds and tides. These elements are there in the background, sometimes unnoticed, sometimes obvious. Endowed with immense power, they can waylay plans and inhibit progress.
Natural forces can't really be tamed or fundamentally altered. But if you respect them and understand how to make the most of them, they can become a source of energy and provide powerful assistance. This is the same as our company's culture. Hence, it is incumbent upon leaders to strive to get the most value out a company's culture.  This can be done if we work with them and tap into their hidden powers.
Understanding Corporate Culture
What is culture? Culture is a self-sustaining pattern of behavior that determines how things are done.  It is made of instinctive, repetitive habits and emotional responses that cannot be copied or easily pinned down.
What is Corporate Culture? The Corporate Culture defines the very essence of a company.  It is its basic personality and the essence of how its people interact and work. Corporate Culture is an elusively complex entity that survives and evolves through the gradual shifts in leadership strategy and other circumstances.
It is what people feel, think, and believe and it is shaped by the way they go about their business. An organization's current culture contains several reservoirs of emotional energy and influence.  When positive culture forces and strategic priorities are in sync, companies can draw energy from the way people feel.
The 10 Principles of Culture
Research shows that companies that use cultural catalyst will experience change that lasts.  Understanding the 10 Principles of Culture will increase the odds of financial and operational success.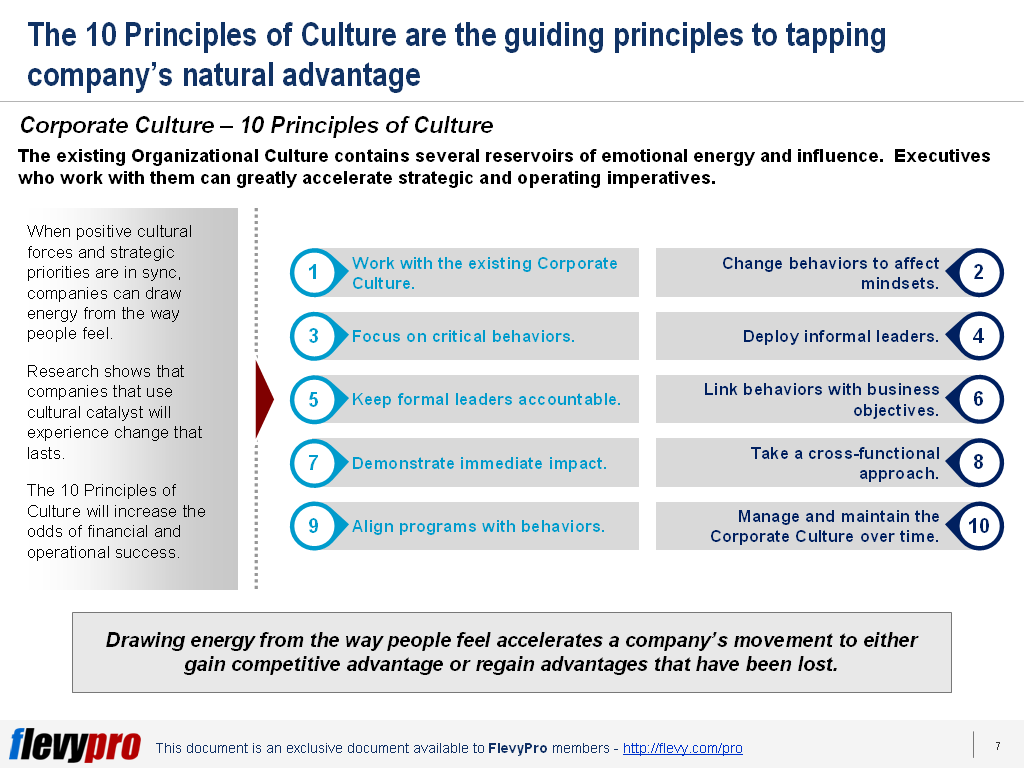 Work with the existing culture. Deeply embedded culture cannot be replaced with simple upgrades or major overhaul efforts. We need to understand existing cultures to allow leaders to get the most value out of company culture.
Change behaviors to affect mindsets. Culture is much more a matter of doing than of saying. Changing mindsets by communicating values and putting them in glossy brochures just does not work.
Focus on critical behaviors. Selecting people who strongly respond to new behaviors are likely to implement and spread the new culture.
Deploy informal leaders. Leadership is a natural attribute that is exercised and displayed informally without regard to title or position in the organizational chart. Identifying, engaging, and nurturing informal leaders allow companies to harness talents to further the company's transformation efforts.
Keep formal leaders accountable. The signaling of emotional commitment sets the tone for others to follow.
Link behaviors with business objectives. Understanding how behaviors link with individual work and business objectives is the starting point of change and acceptance among employees.
Demonstrate immediate impact. Today is the age of notoriously short attention span which also applies to organizational culture. There is a need to showcase the impact of cultural efforts as quickly as possible.
Take a cross-functional approach. Facilitating connections among groups to share learning and insights is a great step forward.
Align programs with behaviors. New cultural directions must match with existing ways of doing business.
Manage and maintain the culture over time. We need to be culture superstars. Culture superstars actively monitor, manage, and update cultural forces over time.
A highly effective culture today may not be good enough for tomorrow. With the fast pace of business and its highly volatile environment, we need to manage and maintain the culture over time. Achieving this requires committed effort towards integrating the 10 Principles of Culture in our company and the Corporate Culture that we hope to achieve.
Interested in gaining more understanding of 10 Principles of Culture? You can learn more and download an editable PowerPoint about 10 Principles of Culture here on the Flevy documents marketplace.
Are you a management consultant?
You can download this and hundreds of other consulting frameworks and consulting training guides from the FlevyPro library.