Inadequately structured jobs create disputes, negative perceptions, inequality, and frustration among employees.  On the other hand, well-articulated jobs, appropriate distribution of work, justified authority levels, and correct estimation of value of individual jobs elevate employee engagement levels, productivity, and job satisfaction.  Organized job levels are a sign of effective Human Resources Management function.
The lack of a structured job design—and ill-defined jobs—renders the organizations ineffective and burdened with excessive staffing and payroll costs.  This warrants from the leadership to plan and undertake a Job Leveling initiative.  Job Leveling is a disciplined approach to gauge the value of work for individual positions across the organization.  It entails ascertaining the nature of work done by each position, authority levels, and the effect of each job on business results.  The initiative is critical in administering rewards structures.
However, Job Leveling is a concern at most organizations—not many people are satisfied with the value assigned to their roles.  The absence of proper—or inadequate—job levels yields grave consequences for the entire organization.  Jobs valued higher than their actual value lead to wastage of resources, whereas low valued jobs are perceived as offensive and inculcate demotivation.
Job Design and Job Leveling is essential when organizations consistently encounter issues, such as:
Constant employees complaints and demands to reclassify jobs
Excessive job titles
Widespread dissatisfaction with remuneration
Task / processes redundancy
Financial outflow
Staffing imbalances and top heavy structure
Workforce planners should lay out a clearly-defined Job Leveling Framework to tackle these issues and methodically benchmark the value of jobs at their organizations.  To accomplish this, they need to first analyze all the activities required under each position, the professional competences and demeanor essential to perform those activities, and gauging the effect each position has on business results.
The 4 core benefits to developing and executing an efficient Job Leveling Framework include:
Establish Consistency across the Human Resource Initiatives
Develop Clear Paths for Career Growth
Improve Ease of Administration
Increase Flexibility for M&A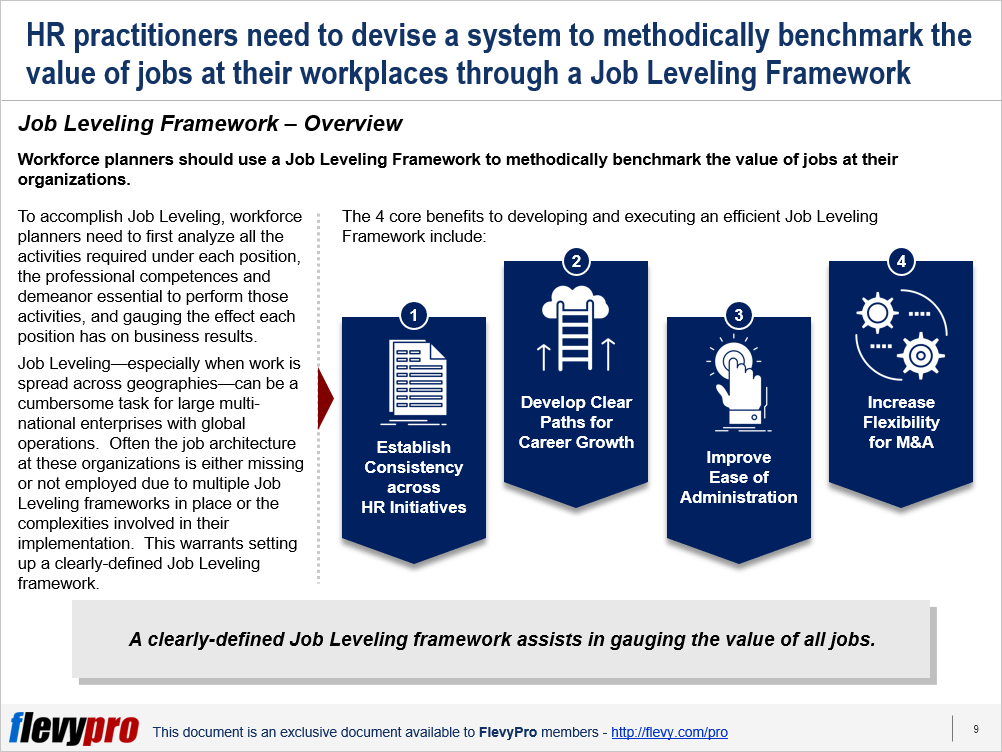 Let's delve deeper into 3 of these benefits, for now.
Establish Consistency Across the HR Initiatives
A standardized job evaluation approach enables a consistent job structure terminology.  It makes communication and Job Leveling related decisions easier.  A Job Leveling Framework aids in defining relative placement of various jobs, using elements, such as, knowledge, problem solving, interaction, impact, and accountabilities.  Alignment of jobs through a Job Leveling Framework helps in developing consistency across other HR initiatives and make better talent related decisions.
Develop Clear Paths for Career Growth
Organizations use clear career pathways to enhance employee engagement, meet employee expectations, and provide opportunities for their development.  A Job Leveling Framework provide clear-cut job structure to inspire the employees.  Career pathways developed through Job Leveling Framework helps the leaders as they strive to improve the amount of mobility across teams, units, and divisions.
Improve Ease of Administration
A Job Leveling Framework assists in developing efficient methods to administer HR initiatives.  A Job Leveling Framework enables improved efficiencies and decisions related to key talent and their work.  For instance, it streamlines pay grades and salary structures; standardizes job titles; simplifies short-term incentive criteria and objectives definition; and structures long-term reward eligibility criteria and nominations.
Interested in learning more about the Job Leveling Framework and benefits associated with its implementation? You can download an editable PowerPoint on HR Strategy: Job Leveling Framework here on the Flevy documents marketplace.
Are you a Management Consultant?
You can download this and hundreds of other consulting frameworks and consulting training guides from the FlevyPro library.