Although organizations invest heavily in Learning and Talent Development, most CEOs when interviewed complain about the shortage of learned managers, leaders, and skilled workforce.
The capabilities of knowledge workers, not technology or capital, is often a key constraint for organizational growth.  Research reveals that a number of managers consider employee performance to remain the same even if their organization's learning function is totally abolished.  Studies further indicate:
Ineffectiveness of Corporate Learning.
Wrong investments in Learning and Development.
Lack of linkage of learning with strategic goals.
Focus on learning but not on employees' development.
Investments and efforts on learning are concentrated towards wrong things.  Abundance of online courses and mobile knowledge apps are triggering organizations to revisit their Corporate Learning Strategies.  Utilization of innovative learning techniques—and modes—for leadership development has become the top agenda for senior learning leaders.
Learning and Development is important for organizations as:
Employee engagement and leadership sets the right impetus for the organization.
Competencies of knowledge workers makes the difference in achieving organizational growth.
It delivers value, critical to survive—and outperform—competition.
Effective learning experiences engage the emotional and cognitive centers of human brains, making employees appreciative of their organizational learning efforts.
Leadership, today, is more aware of the significance of Corporate Learning in Organizational Development and profitability.  Leaders are now proactively striving to align their Corporate Learning objectives with demands of knowledge workers and strategic organizational goals.
The following learning practices represent 4 key phases of the process for defining and executing a research-substantiated Corporate Learning Strategy:
Formulate the CEO Agenda
Align Learning & Development (L&D) Resources
Gain Buy-in from Key Stakeholders
Activate the Learning Agenda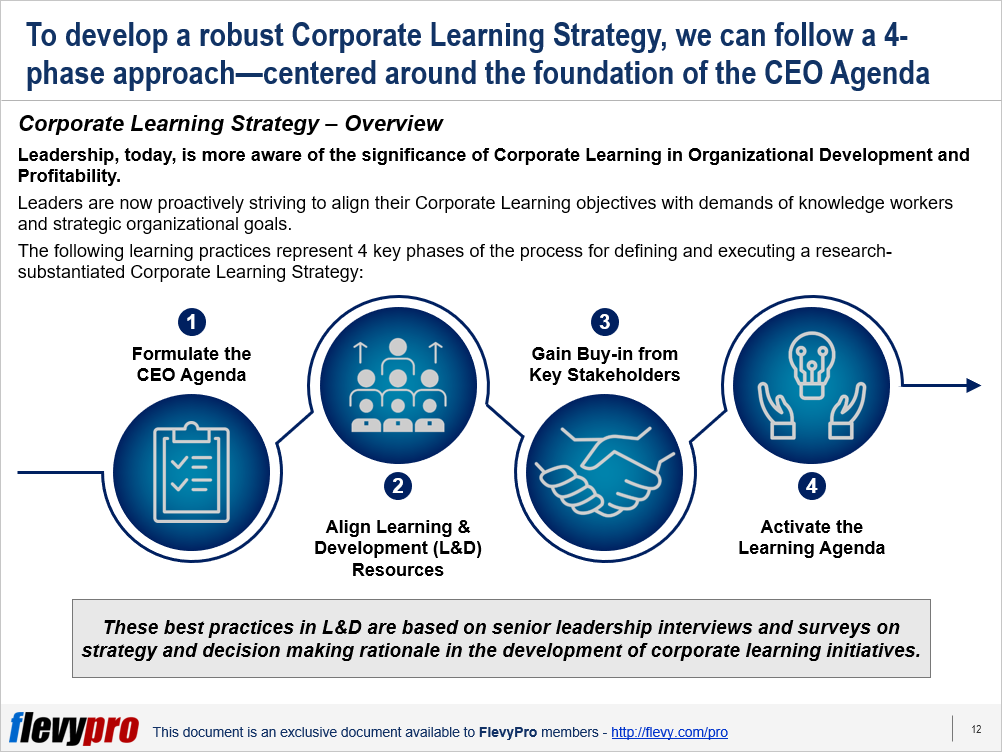 These learning practices have been grounded on senior leadership interviews and surveys on company strategy and decision-making rationale to develop corporate learning initiatives.
Let's dive deeper into these 4 phases of Corporate Learning Strategy.
Formulate the CEO Agenda
Corporate Learning Strategy is much more than top management attending training events.  It warrants making the corporate learning agenda an extension of the CEO agenda.  Learning programs typically entail doing a Training Needs Assessment by interviewing mid-level management, who aren't part of the organization's strategic management, which makes the assessment flawed.  Outsourcing the training function further compounds the problem.
The first phase of the Corporate Learning Strategy warrants gathering data from company reports, websites, and leadership interviews to enable documentation of senior leadership's pain points, key issues, and strategic priorities.  Mapping the CEO Agenda—uncovering the leadership priorities—should be the foremost element of aligning learning with strategy.
The step necessitates extensive meetings to identify leadership needs and attributes essential for future leaders and incorporating feedback of business leaders to develop new corporate learning initiatives.  Chief Learning Officer reporting directly to the CEO facilitates the process.
Align Learning & Development (L&D) Resources
The matter as important as creation of a learning inventory is typically skipped at companies.  The executives, there, find it difficult to track expenditure on learning programs carried out by scores of external consultants.  Preparation of a repository of current Learning and Development resources has to be done regularly to make sure that the learning portfolio aligns with the organizational learning strategy.
Business units should align priorities and investment with top-level strategy.  L&D leadership has to ensure that their interventions are tailored to the needs of the business.  There should be regular reviews and calculated reorganization of the development infrastructure and processes (e.g., promotion and succession planning).  The approach should focus towards strengthening the on-the-job learning experience, busting silos, and developing collaboration.
Gain Stakeholders Buy-in
Reorganization of Corporate Learning initiatives necessitates gathering input and support from all levels of the organization.
Interested in learning more about the other phases of Corporate Learning Strategy?  You can download an editable PowerPoint on Corporate Learning Strategy here on the Flevy documents marketplace.
Do You Find Value in This Framework?
You can download in-depth presentations on this and hundreds of similar business frameworks from the FlevyPro Library.  FlevyPro is trusted and utilized by 1000s of management consultants and corporate executives.  Here's what some have to say:
"My FlevyPro subscription provides me with the most popular frameworks and decks in demand in today's market.  They not only augment my existing consulting and coaching offerings and delivery, but also keep me abreast of the latest trends, inspire new products and service offerings for my practice, and educate me in a fraction of the time and money of other solutions.  I strongly recommend FlevyPro to any consultant serious about success.

– Bill Branson, Founder at Strategic Business Architects
"As a niche strategic consulting firm, Flevy and FlevyPro frameworks and documents are an on-going reference to help us structure our findings and recommendations to our clients as well as improve their clarity, strength, and visual power.  For us, it is an invaluable resource to increase our impact and value."

– David Coloma, Consulting Area Manager at Cynertia Consulting
"FlevyPro has been a brilliant resource for me, as an independent growth consultant, to access a vast knowledge bank of presentations to support my work with clients.  In terms of RoI, the value I received from the very first presentation I downloaded paid for my subscription many times over!  The quality of the decks available allows me to punch way above my weight – it's like having the resources of a Big 4 consultancy at your fingertips at a microscopic fraction of the overhead."

– Roderick Cameron, Founding Partner at SGFE Ltd