Strategic Supply Chain Planning is the "Pegasus of Strategy."  It can soar, but it also needs to keep its feet on the ground.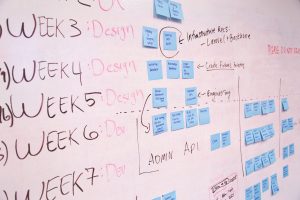 Companies with a global supply chain now need to introduce its strategic left hand to its operational right hand.  To make planning more valuable, its strategic supply chain planning needs to combine strategic planning with its tactical supply chain planning.  The importance of aligning strategic direction to the supply chain has become of utmost importance.
Senior Managers formulate strategies to maximize shareholder value. Supply chain planners run optimization models to minimize costs. If scenario planning is combined with supply chain planning, the best of both worlds is achieved. The company can expect to achieve a long-term competitive advantage.
Strategic Supply Chain Planning provides the framework in selecting projects that best support the organization's supply chain objectives and strategies. It plays an essential role within the Planning Spectrum.
The Planning Spectrum
Within the Planning Continuum are 3 decision-making models of importance to the business.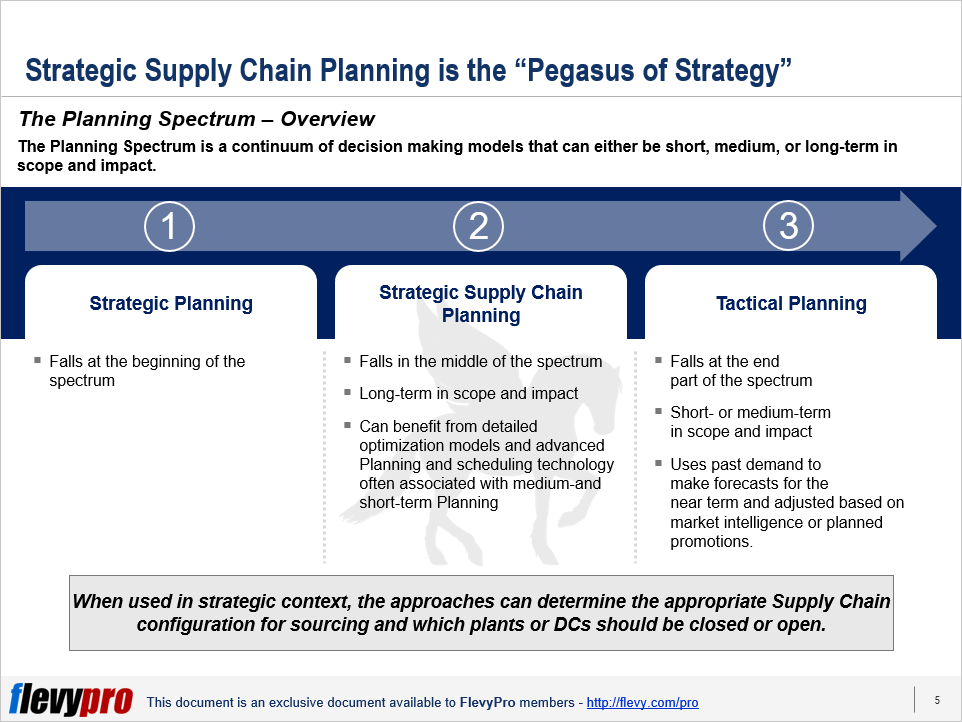 The range of Strategic Planning approaches across the Planning Spectrum depends on the fundamental changes it is focused on.  Strategic Planning, Strategic Supply Chain Planning, and Tactical Supply Chain Planning differ in terms of scope of decision making, decision horizon, flexibility to act, and possible tools to use.
Let us take a look at Strategic Planning.  In Strategic Planning, its scope of decision making covers the entire nature of the business. This means that the planning scope covers the reevaluation of the business model.
When undertaking Strategic Planning, there are several tools that can be used.  Organizations may use the Framework Analysis or lower-level analysis that may entail the use of spreadsheets. Dynamics tools and other simulation tools may also be used.
If we look at the Strategic Supply Chain Planning, its scope of decision making is more focused or directed. This is undertaken to determine whether there is a need to open or close plants and distribution centers.  It is used to determine whether there is a need to modify capacity, change product offerings even the decision to manufacture in-house or to outsource it. Strategic Supply Chain Planning is more directed towards a specific area.
Once Strategic Supply Chain Planning has been undertaken, it is appropriate to follow this up with Tactical Supply Chain Planning. It is at this point wherein organizations now have to plan out and determine which plant should produce what product over the coming months depending on the demand forecast.
When undertaking the Planning Spectrum, it is best to understand the scope of decision making of each planning approach for organizations to achieve the best results.
Other Organizational-based Tools
The 3 Planning approaches have demonstrated effective use of organization-based tools to maximize results and impact. One is the use of Optimization Models for Strategic Supply Chain Planning. The Optimization Model has been known to have been applied effectively by corporations such as Baxter International, Inc., Pet Inc., and GM.
Baxter International, Inc. has been successful in using SAILS or Strategic Analysis of Integrated Logistics Systems. It has been used to evaluate consolidated approaches. Pet Inc was able to used SAILS to assess supply chain synergies from 2 potential acquisitions.
The use of the Optimization Model in Strategic Supply Chain Planning and Tactical Supply Chain Planning differs both in design and use.  Hence, it is essential for organizations to have a good understanding of the Planning Spectrum to effectively integrate to use the Optimization Model.
Interested in gaining more understanding of Strategic Supply Chain Planning? You can learn more and download an editable PowerPoint about Strategic Supply Chain Planning here on the Flevy documents marketplace.
Are you a management consultant?
You can download this and hundreds of other consulting frameworks and consulting training guides from the FlevyPro library.