As Western companies are being put under increasing pressure to cut expenses and improve return on assets, the dilemma of whether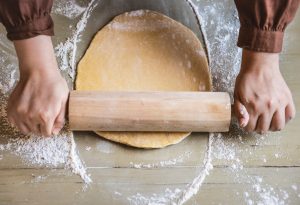 to keep key functions in-house or outsource them has taken center stage.
Manufacturing units are being identified with Make-or-Buy Decisions as third-party suppliers in Eastern Europe, China, and other low-cost regions hold out a promise of significant advantage that companies in developed countries can't offer.
The Make-or-Buy Decision extends beyond manufacturing. It encompasses human resources, information technology, maintenance, and other fundamental business functions. Chief Procurement Officers are now expected to play a key role in helping business units make decisions given the skills and objective perspective the teams bring to the effort.
What is a Make-or-Buy Decision?
A Make-or-Buy Decision is the act of making a strategic choice between outsourcing and in-house. It usually arises when a company with a new product has problems with suppliers, has a diminishing capacity, or faced with changing demands. A Make-or-Buy analysis is often done at the strategic and operational level.
Oftentimes, our company needs to ask the right questions to achieve the highest possible level of quality and productivity in overseeing and managing third-party suppliers. We need to ask what resources are required and how long it would take to reach noticeably improved performance. Are technology innovation and alignment necessary to have a competitive edge? This and many more should be asked to direct our company to make the right decision. It is essential that our company must recognize the importance of the Make-or-Buy Decision to overall business strategy and its implications.
The Make-or-Buy Decision Framework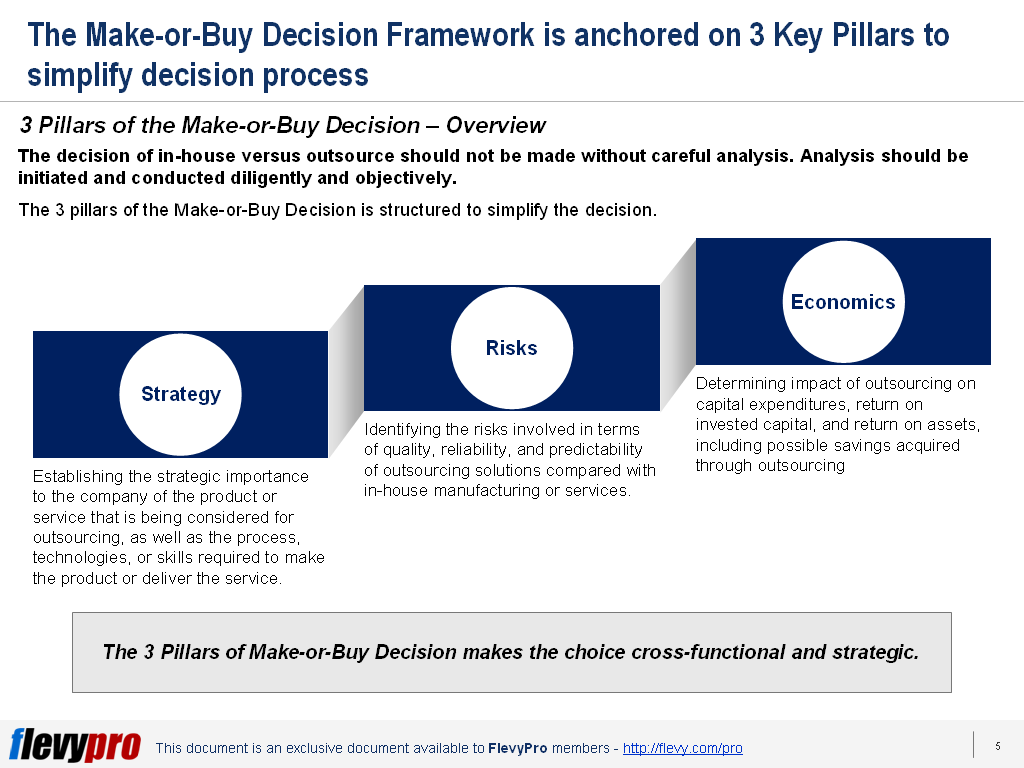 Strategy
Business Strategy is essential in the face of competition and in anticipation of a future change in the environment. Our company must determine the strategic importance of a product or service that is being considered for outsourcing to the company. This will include looking at the process, technologies, or skills required to make the product or deliver the service.
Risks
Risk Management is important in outsourcing where the failure of service could be devastating. Risks inherent in the process of identifying and selecting the right supplier and structuring a workable ongoing relationship must be assessed. This also includes lower quality, reliability, and predictability of outsourced solution as compared with in-house manufacturing or services.
Economics
In Make-or-Buy Decision Analysis, possible top-line gains are best calculated when economic factors are integrated. Impact of outsourcing on capital expenditures, return on invested capital, and return on assets, as well as the possible savings achieved through outsourcing,  must be determined.
In the use of the Key Pillars to Make-or-Buy Decision Making Analysis, a Decision Criteria is used to guide companies to go through an accurate process of assessment. The use of decision criteria allows companies to come up with a more informed and sound decision when it comes to Strategy, Risks, and Economics.
Taking the Lead from the Chief Procurement Officer
The Chief Procurement Officer plays a key role in helping business units make Make-or-Buy Decisions, as they are an integral part of any Procurement Strategy. The CPO can lead business units in conducting a detailed analysis that thoroughly evaluates the costs, benefits, risks, and rewards of outsourcing and the implications of keeping the activity in-house. Likewise, the CPO can assess core competence and measure them against world-class standards.
We need to reiterate and re-emphasize again that the decision of in-house versus outsource should not be made without careful analysis. The analysis should be initiated and conducted diligently and objectively.
This is made possible when the Chief Procurement Officer ensures that all the right trade-offs have been evaluated and all possibilities considered. Through the CPO, the organization can be challenged to make a more objective and informed Make-or-Buy Decisions.
Interested in gaining more understanding of Make-or-Buy Decision Making Analysis? You can learn more and download an editable PowerPoint about Make-or-Buy Decision Making Analysis here on the Flevy documents marketplace.
Are you a management consultant?
You can download this and hundreds of other consulting frameworks and consulting training guides from the FlevyPro library.