Culture is essential today in helping employees and management survive in today's environment. Survival has become a strong word
today. Without culture, everyone in the organization would act or behave differently. No one would be able to anticipate someone else's behavior, and no one would understand why people behave the way they do. When this happens, the organization's performance would be very chaotic.
What is culture? Organizational Culture is a learned process and is developed by the organization as a response to the working environment established by the organization's leadership and management team. It is established in all organizations, regardless of whether its development is guided or unguided. Either way, culture can have a positive or negative impact on the organization's performance.
A Take Away at Corporate Culture and a Lean Culture
Corporate culture is a set of standards shared by members of an organization. It produces behavior that falls within a range that the organization considers proper and acceptable. Having the right culture will increase the organization's chance to survive.
What is a Lean Culture? Lean Culture is a total system and represents a complete and comprehensive culture change in the organization. A Lean Culture enables lean implementation and represents a completely new way of managing the organization through Lean Management.
The development of a Lean Culture starts with a Lean Culture Framework.
The Lean Culture Framework
The development of a Lean Culture starts with a definition of a Continuous Improvement Lean Culture. As a starting point, the Lean Culture Framework consists of 5 essential elements.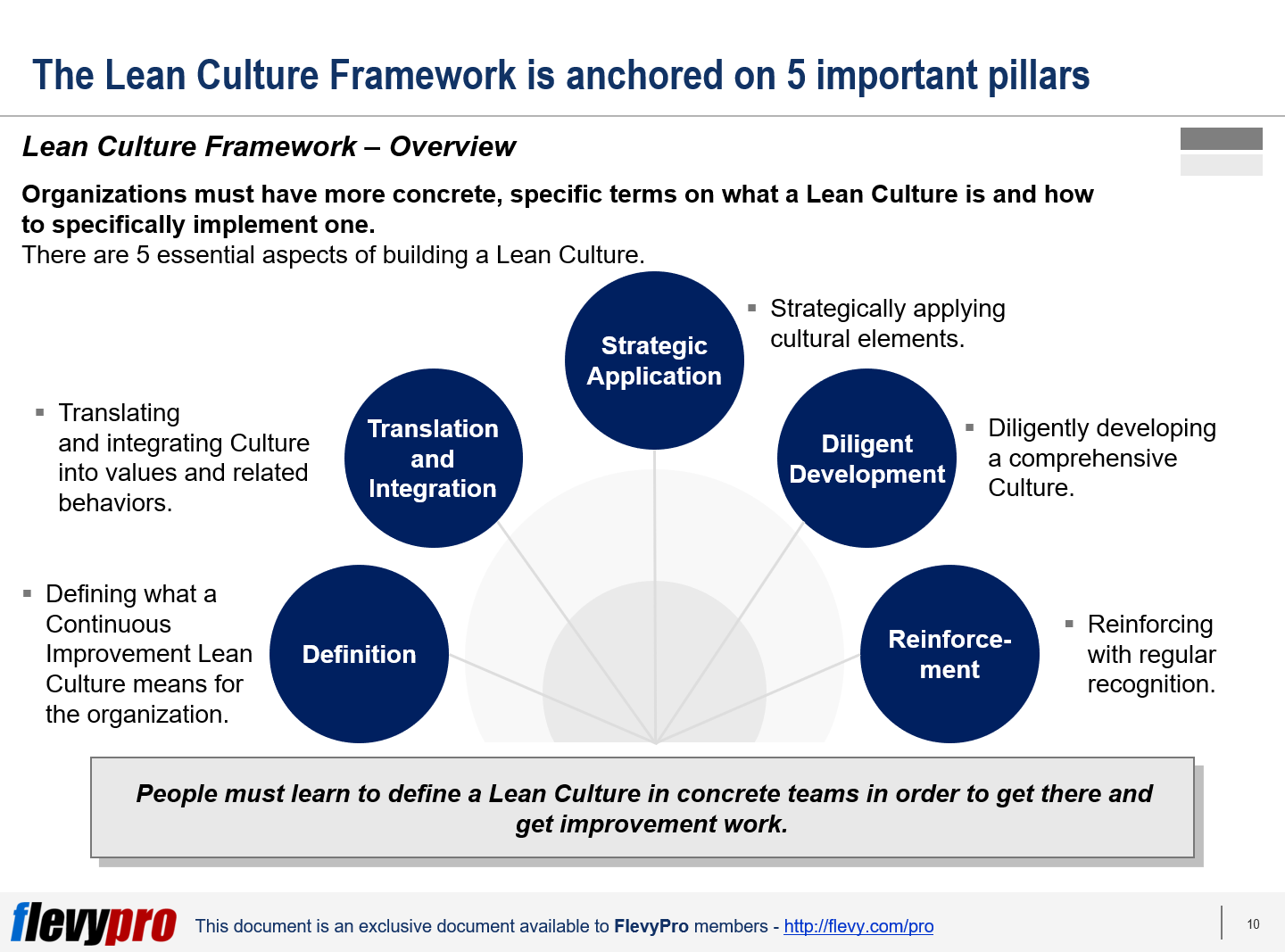 Definition. This element ensures that the organization gets to properly define what Continuous Improvement Lean Culture really means for the entire organization. When this is undertaken, improvement becomes a part of the organization's culture.
Translation and Integration. The second element ensures that culture is well translated and integrated into values and related behaviors. It is important for organizations to understand that strong values can guide the behaviors of people.
 Strategic Applications. This basically refers to the strategic application of cultural elements. If problem-solving is one of the cultural elements, the strategic plan of the organization can take a problem-solving approach to achieve key targets.
Diligent Development. This element focuses on the diligent development of a comprehensive culture. This ensures the alignment of programs with a long-term problem-solving culture of improvement of the organization and eliminates conflicting messages.
Reinforcement. The fifth element ensures that reinforcement is undertaken with regular recognition. When this is done, the organization can expect to gain more improvements.
The five (5) elements of the Lean Culture Framework must be properly structured to ensure its effective implementation. In today's business environment where Competitive Advantage and Operational Excellence is gaining ground towards sustainability, organizations just need to learn how to operate smartly and effectively. This can be done when a Lean Culture Framework is established and implemented.
The Devil is in The Details: The Implementation
Culture change typically is not greeted with open arms. To be successful, a Lean Culture change initiative must have a few DO-NOT-PASS-GO items. A few of these are leadership involvement and engagement, cultural dynamics, and education. Implementation of a Lean Culture Framework may seem easy but it is not. It requires care, patience, a bottomless energy source, and an iron will to succeed. It can be of advantage if organizations are well guided in undertaking a culture change. A well developed and thought-of plan can highly help organizations go through culture change with just a few bumps along the way.
Interested in gaining more understanding of Lean Culture? You can learn more and download an editable PowerPoint about Lean Culture here on the Flevy documents marketplace.
Are you a management consultant?
You can download this and hundreds of other consulting frameworks and consulting training guides from the FlevyPro library.