Agile is a robust approach to value creation.  More and more organizations are adopting Agile Software Development approach.
Becoming Agile is imperative to meet and exceed customer expectations and emerging business trends.  Implementing the Agile approach to Software Development leverages significant benefits, including:
Rapid design and development of new product and service offerings
Managing talent
Reforming organizations
However, Agile alone is not enough.  Agile Transformation can slip-up as Agile teams can stagger while working together and depending on others.  In order to become an effective Digital organization, companies have to steer clear of the obstacles that bog down the rapid progress of Agile software development.  These organizational obstacles to Agile include:
Rigid Technology Architecture
Poor Talent Management
Lack of Product Mindset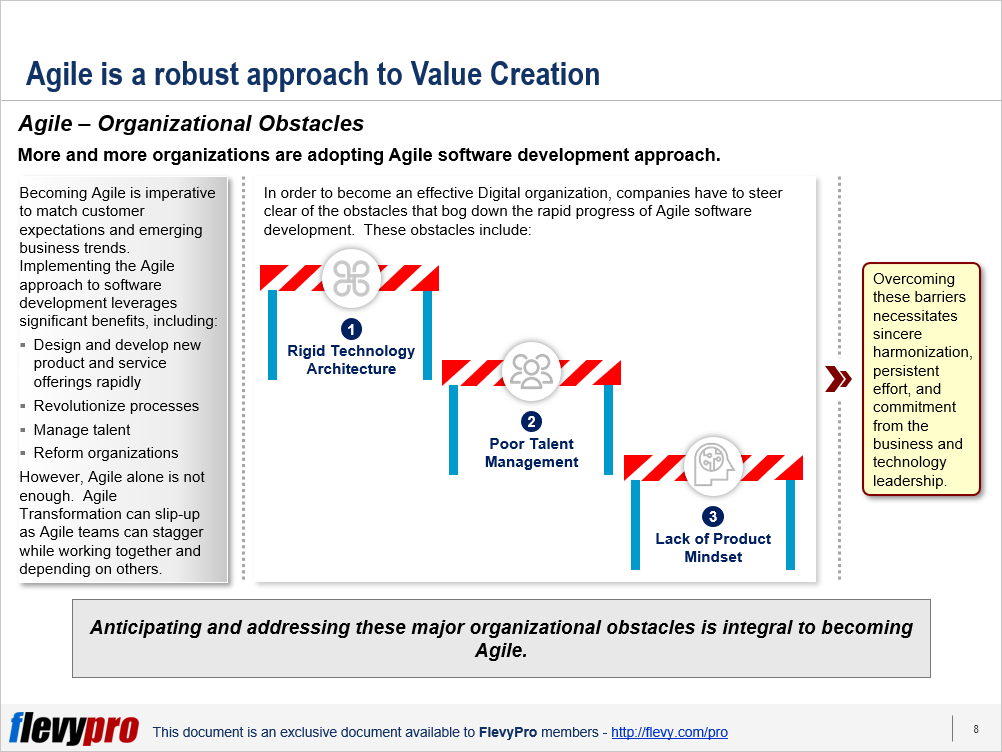 Overcoming these barriers necessitates sincere harmonization, persistent effort, and commitment from the business and technology leadership.  Anticipating and addressing these major organizational obstacles is integral to becoming Agile.
Let's discuss these obstacles in detail.
Rigid Technology Architecture
Using and expanding the same old codes and plugging gaps with software patches renders the IT Architecture cumbersome and unyielding, at most organizations.  Many organizations have outdated systems to manage operations and facilitate their customers.  The integration of these outdated systems with modern applications and IT architecture isn't easy, making them inflexible.  Most of these systems and aps are inter-reliant and connected.  A small change in a code has serious implications on other connected applications.
IT executives have to consider a number of factors before modernizing their IT architecture.  These factors include potential value envisaged from the new architecture, requirement for new functionalities, risk of disruption, complications involved in the process, extent of fragmented data, and costs.  Based on thorough evaluation of these factors, executives select one of these 4 common approaches to revolutionize their IT architecture:
Inaction – The investment in overhauling certain applications is thought to be nonviable as their impact is considered insignificant in the overall architecture.
Integrate – Uncover the old system's essential function / elements and connect them with modern systems using interfaces (APIs).
Overhaul – Modify the design of applications—e.g. dissecting the code into distinct, autonomous sections and eliminating any hard-coded values.
Replace – Design innovative applications and deploy latest architecture (e.g. micro-services).
Poor Talent Management
Most leaders understand the importance of finding and staffing top talent in becoming Agile.  However, outdated HR Management practices at some organizations become a major hurdle in attracting and retaining talented individuals.  The issue with IT management at most technology firms in the recent past was their shortcoming in visualizing the problems through a business perspective.  This led to the depletion of technical capabilities due to hiring of more and more people with strong business sense, but inadequate technological prowess.
Another factor compounding the talent deficit is entrusting the hiring function to external contractors by scores of IT organizations.  This practice, although, assists in staffing talent and gaining new capabilities promptly, but diverts much of the executives' time in supervising the external contractors.  This leaves little time for them to acquire new technical skills and gives the contractors too much control over innovation.  Outsourcing the software maintenance to 3rd parties is another factor that leads to poor accountability and Talent Management.
To mitigate these issues, technology companies need to transform, strengthen their technical capabilities, eliminate dependencies on 3rd parties, and clearly define responsibilities.
Interested in learning more about the obstacles to becoming Agile?  You can download an editable PowerPoint on 3 Organizational Obstacles to Agile here on the Flevy documents marketplace.
Do You Find Value in This Framework?
You can download in-depth presentations on this and hundreds of similar business frameworks from the FlevyPro Library.  FlevyPro is trusted and utilized by 1000s of management consultants and corporate executives. Here's what some have to say:
"My FlevyPro subscription provides me with the most popular frameworks and decks in demand in today's market.  They not only augment my existing consulting and coaching offerings and delivery, but also keep me abreast of the latest trends, inspire new products and service offerings for my practice, and educate me in a fraction of the time and money of other solutions.  I strongly recommend FlevyPro to any consultant serious about success."

– Bill Branson, Founder at Strategic Business Architects
"As a niche strategic consulting firm, Flevy and FlevyPro frameworks and documents are an on-going reference to help us structure our findings and recommendations to our clients as well as improve their clarity, strength, and visual power.  For us, it is an invaluable resource to increase our impact and value."

– David Coloma, Consulting Area Manager at Cynertia Consulting
"FlevyPro has been a brilliant resource for me, as an independent growth consultant, to access a vast knowledge bank of presentations to support my work with clients.  In terms of RoI, the value I received from the very first presentation I downloaded paid for my subscription many times over!  The quality of the decks available allows me to punch way above my weight – it's like having the resources of a Big 4 consultancy at your fingertips at a microscopic fraction of the overhead."

– Roderick Cameron, Founding Partner at SGFE Ltd