Editor's Note:  If you are interested in becoming an expert on Digital Transformation, take a look at Flevy's Digital Transformation Frameworks offering here.  This is a curated collection of best practice frameworks based on the thought leadership of leading consulting firms, academics, and recognized subject matter experts.  By learning and applying these concepts, you can stay ahead of the curve.  Full details here.  
Go digital or go home. In order to thrive in the Digital Age, companies must undertake Digital Transformation to not only support strategy and reach consumers, but also modernize and attain excellence in their internal operations and procedures.  Digital Maturity is rapidly becoming a requirement.
However, majority of firms are incapable of strategizing their move to Digital Maturity.  There are, however, businesses that are Digitally Mature or are rapidly evolving in this direction.  Research into the strategies of such firms suggests that Digitally Mature organizations employ the 5 techniques listed below to achieve leadership in this competition:
Digital Organization
Digital Strategy
Digital Experimentation
Digital Talent
Digital Management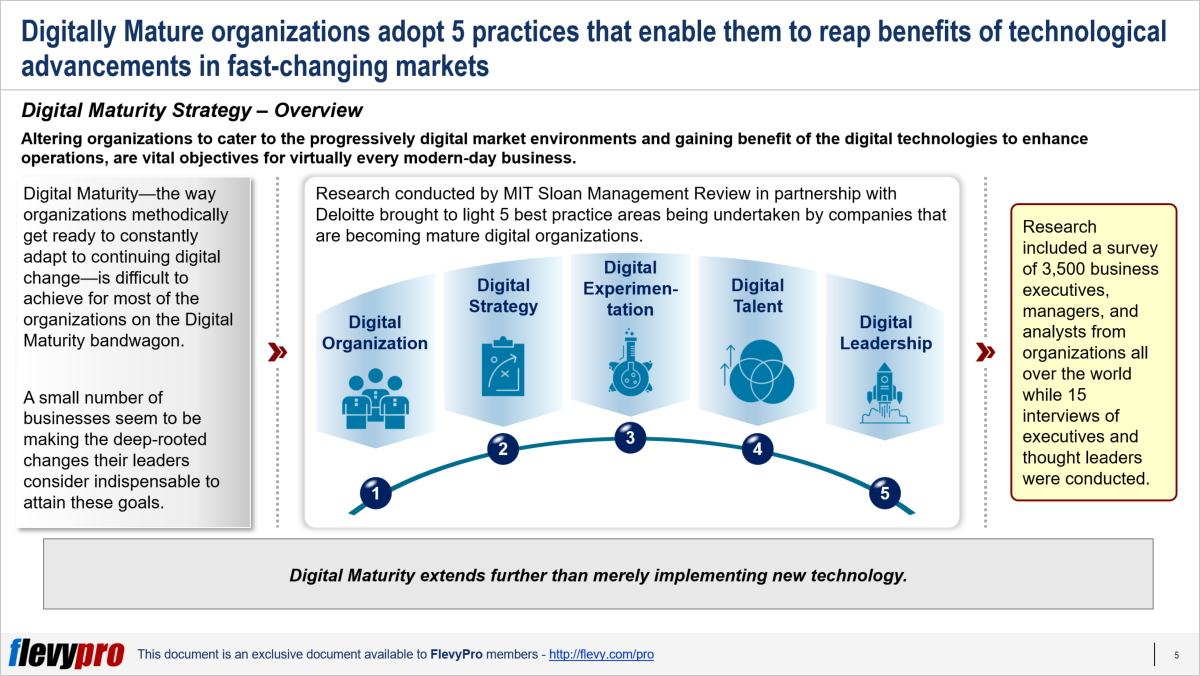 These 5 key practices form the basis of Digital Maturity Strategy.  Let us go a bit more into a few of these recommended practices. 
Digital Organization
Conventional Organizational Structures comprising of functional silos are ineffective in markets that are dynamic and continually changing.  The introduction of cross-functional team structures is a result of a novel approach to organizational structures.  Customary command and control systems based on functional silos impede the market agility required by present conditions.
A study survey characterized firms' Digital Maturity as Early-stage, Developing, and Mature. Nearly 60% of early-stage respondents viewed their firms' management structure and procedures as a hindrance to engaging in Digital business successfully.  In Digitally Maturing organizations, on the other hand, 80% of respondents stated that their executives possessed the necessary knowledge and skills to lead the organization's Digital Strategy. 
Digital Strategy
Effective Digital Strategies are not limited to the application of technology to become more digital; rather, they are designed to find possibilities with the biggest commercial effect.
Consistently, research demonstrates that strategy is the most potent differentiator for Digitally Maturing firms.  Digital Strategies outline how the firm conducts business in light of the market shifts brought about by new Digital technology.
In a poll, 40% of the respondents stated that Digital Strategy and Innovation needed development in order for their organization to raise its level of Digital Maturity.  Digitally Mature organizations (80% of them) had or were expected to have a well-defined and cohesive Strategy, compared to 19 percent of Early-stage companies, according to the study.  According to the research, Digitally Mature firms are 2 times as likely to strategize for at least a 5 year period.
Successfully implementing Digital Strategy requires a focus on Organizational Change and the development of adaptability to rapidly changing Digital environments. 
Digital Experimentation
Almost every company engages in technological experimentation.  However, the scope and size of tests may not always provide results with enterprise-wide implications.  Digitally Mature organizations are able to expand Digital Experiments.
The key to effective experimentation is conceiving of trials for pressing business challenges that will drive enterprise-wide innovation, followed by the execution of smaller experiments that can be scaled up, if successful.
Early-stage corporations are 2.5 times less capable of undertaking small experiments and scaling Innovation enterprise-wide than Digitally Maturing enterprises.  The capability to scale up modest trials is bolstered by an attitude of openness toward failure and the capacity to learn from it.
Interested in learning more about Digital Maturity Strategy?  You can download an editable PowerPoint on Digital Maturity Strategy here on the Flevy documents marketplace. 
Want to Achieve Excellence in Digital Transformation?
Gain the knowledge and develop the expertise to become an expert in Digital Transformation.  Our frameworks are based on the thought leadership of leading consulting firms, academics, and recognized subject matter experts.  Click here for full details.
Digital Transformation is being embraced by organizations of all sizes across most industries.  In the Digital Age today, technology creates new opportunities and fundamentally transforms businesses in all aspects—operations, business models, strategies.  It not only enables the business, but also drives its growth and can be a source of Competitive Advantage. 
For many industries, COVID-19 has accelerated the timeline for Digital Transformation Programs by multiple years.  Digital Transformation has become a necessity.  Now, to survive in the Low Touch Economy—characterized by social distancing and a minimization of in-person activities—organizations must go digital.  This includes offering digital solutions for both employees (e.g. Remote Work, Virtual Teams, Enterprise Cloud, etc.) and customers (e.g. E-commerce, Social Media, Mobile Apps, etc.). 
Do You Find Value in This Framework?
You can download in-depth presentations on this and hundreds of similar business frameworks from the FlevyPro Library.  FlevyPro is trusted and utilized by 1000s of management consultants and corporate executives.  Here's what some have to say:
"My FlevyPro subscription provides me with the most popular frameworks and decks in demand in today's market.  They not only augment my existing consulting and coaching offerings and delivery, but also keep me abreast of the latest trends, inspire new products and service offerings for my practice, and educate me in a fraction of the time and money of other solutions.  I strongly recommend FlevyPro to any consultant serious about success."

– Bill Branson, Founder at Strategic Business Architects
"As a niche strategic consulting firm, Flevy and FlevyPro frameworks and documents are an on-going reference to help us structure our findings and recommendations to our clients as well as improve their clarity, strength, and visual power.  For us, it is an invaluable resource to increase our impact and value."

– David Coloma, Consulting Area Manager at Cynertia Consulting
"FlevyPro has been a brilliant resource for me, as an independent growth consultant, to access a vast knowledge bank of presentations to support my work with clients.  In terms of RoI, the value I received from the very first presentation I downloaded paid for my subscription many times over!  The quality of the decks available allows me to punch way above my weight – it's like having the resources of a Big 4 consultancy at your fingertips at a microscopic fraction of the overhead."

– Roderick Cameron, Founding Partner at SGFE Ltd