Editor's Note:  If you are interested in becoming an expert on Digital Transformation, take a look at Flevy's Digital Transformation Frameworks offering here.  This is a curated collection of best practice frameworks based on the thought leadership of leading consulting firms, academics, and recognized subject matter experts.  By learning and applying these concepts, you can stay ahead of the curve.  Full details here.
Digital Transformation is now essential for the survival of all organizations, especially businesses.
Adapting organizations to increasingly digital market environments and leveraging digital technologies to improve operations are essential goals for virtually every modern business.
Digital Transformation is typically more challenging than any Change or Transformation program a business may undertake.  The majority of organizations struggle to implement the fundamental changes required for Digital Maturity.
The majority of organizations on the Digital Maturity bandwagon find it difficult to achieve Digital Maturity—the process by which organizations methodically prepare to continuously adapt to ongoing digital change.
The 7-stage Digital Maturity Model can be used to determine an organization's Digital Maturity.  To reach Digital Maturity, the company should be in either phase 6 (Transform) or phase 7 (Improve) of the model, as seen on the following slide.  These 2 phases encompass the "Run" phase of Digital Transformation and Maturity.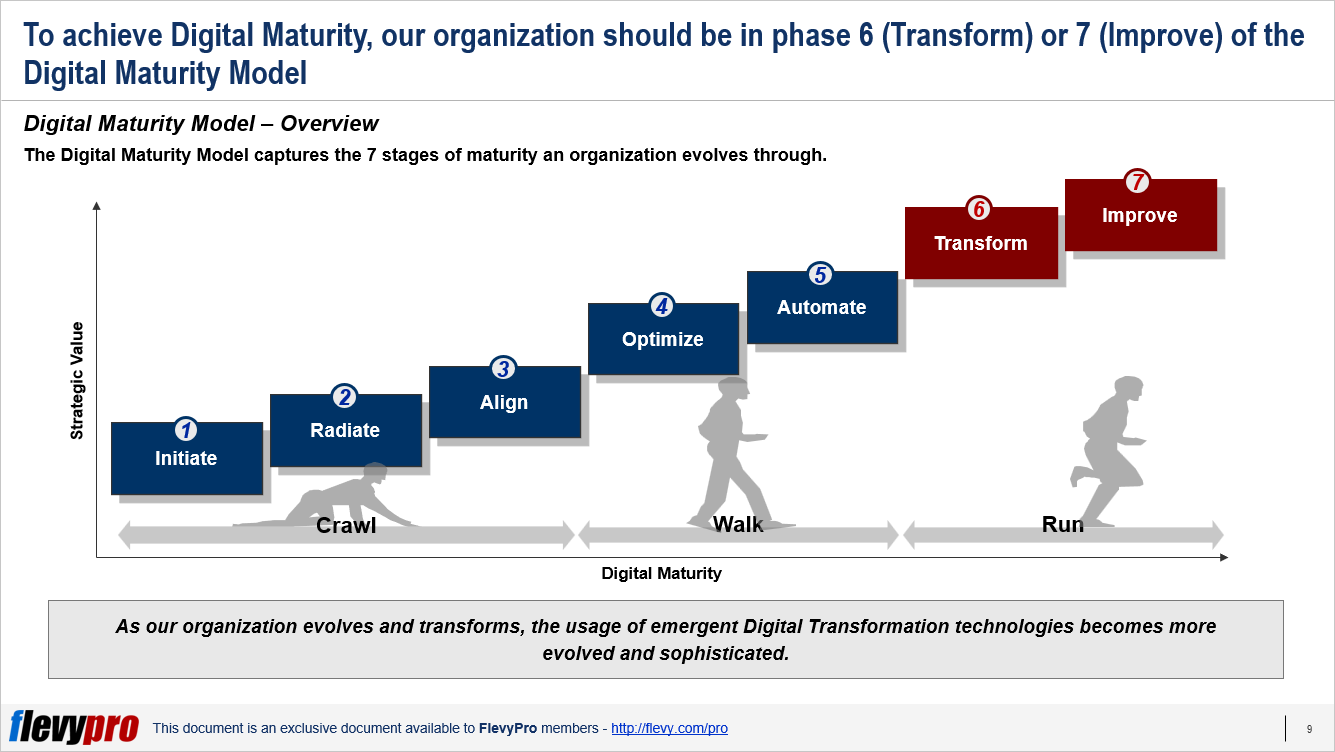 Each phase can be distinguished by its technology and KPI-based objectives.  By the time a business reaches Digital Maturity, it employs very advanced technologies, many of which involve Artificial Intelligence, Data Analytics, and Robotic Process Automation.
Achieving Digital Maturity is an ongoing process.  It is a time-consuming procedure that can increase an organization's prospects of survival and advancement.
A limited number of organizations appear to be implementing the fundamental Changes their CEOs deem essential to achieving these objectives.
A survey of 3,500 corporate executives, managers, and analysts from firms throughout the world was conducted; 15 key informant interviews with executives and thought leaders were also done as part of this study.
The MIT Sloan Management Review and Deloitte research conducted the study to identify Digitally Maturing organizations by asking company executives questions that reflected various aspects of Digital Maturity.
Leaders were tasked with visualizing the ideal organization and rating their own organization accordingly.

Leaders were asked the "importance of making business digital and how their companies were progressing towards that ideal".

Participants were also asked about how their organizations utilize technology to do business in fundamentally different ways.

In answer to a question from participants asking what their firms could do differently to increase their Digital Maturity, the most prevalent obstacles and errors were highlighted.

Investigating the proportion of small-scale digital experimentation and enterprise-wide digital projects yielded intriguing data.

In the research study, the importance of organizational structure in achieving Digital Maturity was also discussed.

The significance of cultural transformation was also explored, with an emphasis on teamwork and risk aversion.
Leaders were tasked with visualizing an ideal company transformed by Digital Technologies and capabilities that optimize processes, link people throughout the firm, and promote new value-generating Business Models.
The respondents were then asked to rank their own organization on a scale from 1 to 10.  These interviews with key informants produced the following 3 groups:
Organizations in the Early level of Digital Maturity received a score between 1 and 3.
Digitally Developing firms were assigned a score between 4 and 6.
Digitally Maturing enterprises were rated between 7 and 10.
The first and most important issue of the MIT Sloan Management Review and Deloitte investigation was, "How genuinely are firms attempting to become Digitally Mature?" 
Interested in learning more about organizations with Digital Maturity?  You can download an editable PowerPoint on Digital Maturity Primer here on the Flevy documents marketplace. 
Want to Achieve Excellence in Digital Transformation?
Gain the knowledge and develop the expertise to become an expert in Digital Transformation.  Our frameworks are based on the thought leadership of leading consulting firms, academics, and recognized subject matter experts.  Click here for full details.
Digital Transformation is being embraced by organizations of all sizes across most industries.  In the Digital Age today, technology creates new opportunities and fundamentally transforms businesses in all aspects—operations, business models, strategies.  It not only enables the business, but also drives its growth and can be a source of Competitive Advantage.
For many industries, COVID-19 has accelerated the timeline for Digital Transformation Programs by multiple years.  Digital Transformation has become a necessity.  Now, to survive in the Low Touch Economy—characterized by social distancing and a minimization of in-person activities—organizations must go digital.  This includes offering digital solutions for both employees (e.g., Remote Work, Virtual Teams, Enterprise Cloud, etc.) and customers (e.g., E-commerce, Social Media, Mobile Apps, etc.). 
Do You Find Value in This Framework?
You can download in-depth presentations on this and hundreds of similar business frameworks from the FlevyPro Library.  FlevyPro is trusted and utilized by 1000s of management consultants and corporate executives.  Here's what some have to say:
"My FlevyPro subscription provides me with the most popular frameworks and decks in demand in today's market.  They not only augment my existing consulting and coaching offerings and delivery, but also keep me abreast of the latest trends, inspire new products and service offerings for my practice, and educate me in a fraction of the time and money of other solutions.  I strongly recommend FlevyPro to any consultant serious about success."
– Bill Branson, Founder at Strategic Business Architects
"As a niche strategic consulting firm, Flevy and FlevyPro frameworks and documents are an on-going reference to help us structure our findings and recommendations to our clients as well as improve their clarity, strength, and visual power.  For us, it is an invaluable resource to increase our impact and value."
– David Coloma, Consulting Area Manager at Cynertia Consulting
"FlevyPro has been a brilliant resource for me, as an independent growth consultant, to access a vast knowledge bank of presentations to support my work with clients.  In terms of RoI, the value I received from the very first presentation I downloaded paid for my subscription many times over!  The quality of the decks available allows me to punch way above my weight – it's like having the resources of a Big 4 consultancy at your fingertips at a microscopic fraction of the overhead."
– Roderick Cameron, Founding Partner at SGFE Ltd