COVID-19 has taken the world by a storm. Financial markets, manufacturing, services, and tourism have been hit hard.  In fact, it has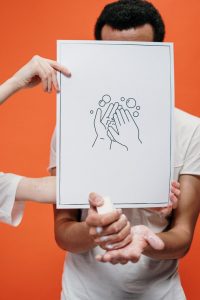 also changed the way we work, communicate, interact, and shop more than any other disruption in the decade.
As a result, there have been key changes in Consumer Behavior. There is a growing reluctance to visit crowded places, the increasing shift of work from the office to home, and the higher propensity for digital adoption and Digital Transformation.  The changes are inevitable. For businesses to stay relevant, businesses have to adjust to the new norms.
We are now entering the Low Touch Economy, a new normal where there are behavioral shifts and entirely different rules and policies.
A Glimpse of the Low Touch Economy
A new economy will be shaped as a result of new habits and regulations. There will be reduced close-contact interaction, tighter travel, and hygiene restriction.
The global economy will transition into a Low Touch Economy as an aftermath of the COVID-19 2020 crisis.  A Low Touch Economy will be characterized by entirely different rules and policies, habits, and behaviors. New rules and policies will be passed that will limit the number of people gathering, restrict travels, hygiene requirements, and strict adherence to practices that will ensure the protection of vulnerable groups.
In the work organization, there will be more people working from home and there will be a greater need for access to e-commerce and logistics.  With the Low Touch Economy, traditional business and lifestyle norms will be greatly challenged and behavioral shifts occurring.
The 10 Trends in Consumer Behavior
While COVID-19 has made a great dent in the global economy, it has also triggered a shift in human behavior. There are 10 trends in Consumer Behavior driven by COVID-19 that are becoming more and more prevalent.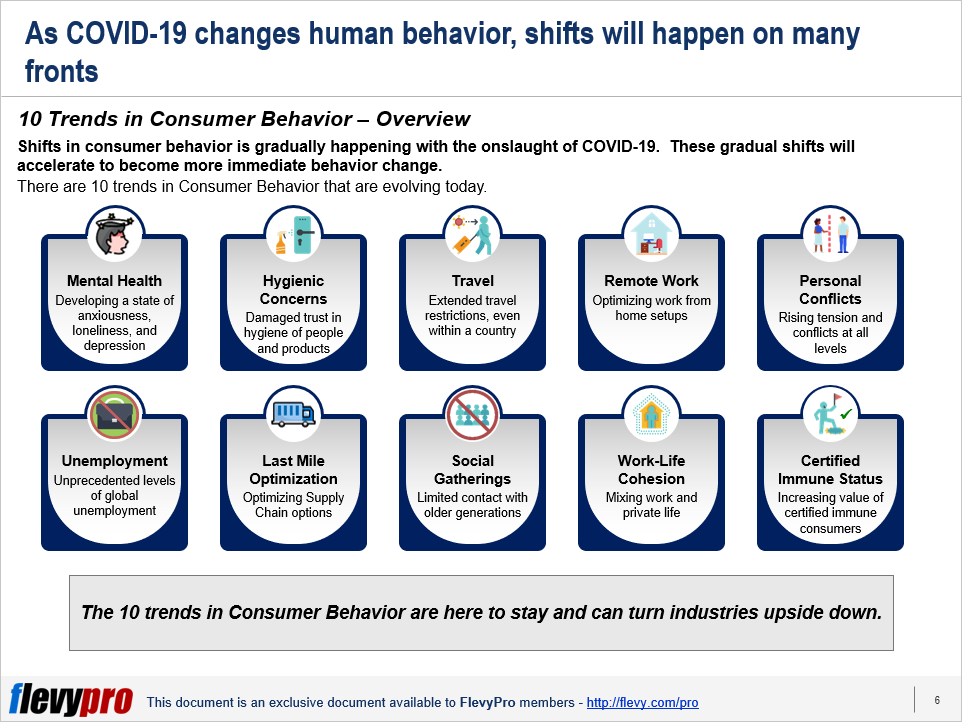 Let us take a look at the first 4 Trends in Consumer Behavior.
Trend 1: Mental Health
As a result of COVID-19, there is an increasing state of anxiousness, loneliness, and depression.  People have started feeling isolated, experiencing lower productivity, and even loss of a job. Relationships have also been affected and the cost of healthcare increased.
Trend 2: Hygienic Concerns
The second trend is geared more on limiting COVID-19 exposure on the job.  It is the ability to respond to varying levels of disease transmission through prevention and control measures.
As a result of this trend, there has been increased caution when interacting with people and products.  In fact, establishments, offices, and even individuals are increasingly demanding for formal proof of hygiene and current health status.
Trend 3: Travel
Travel and Tourism is the trend that has the biggest impact as an industry.  There are now extended travel restrictions, even within one's country.
We can expect local tourism to flourish and there will be longer extensive holidays with quarantine taken into consideration.
Trend 4: Working from Home
Trend 4 is a COVID-19 preventive measure that used to be an office perk.  There is now a need to optimize remote work home setups, which are beyond typical office jobs. As a result of this trend, individuals and families will start figuring out news ways to balance work-life needs within the confines of home.
With more people working from home, we can expect a reduction in office space and infrastructure.  At the home front, there will be the presence of special equipment, machines, and advanced video/audio setups to accommodate the change in lifestyle.
There are 6 other trends on Consumer Behavior that have propped up as a result of the COVID-19 pandemic. With these trends, there are response mechanisms we can expect from organizations, families, and even individuals.
What to Expect
With the changes that the COVID-19 pandemic has brought, we can expect organizations to come up with response mechanisms that will address concerns arising from these trends. Relative to mental health, risk-stratified crisis counseling needs to be initiated as additional support to employees. In fact, it is essential that organizations provide comprehensive benefits for their employees that will center on mental health.
For each trend, a corresponding response mechanism must be put in place if we are intent on ensuring the well-being of our employees and the continuity and stability of our organization.
Interested in gaining more understanding of 10 trends in COVID-19-driven Consumer Behavior? You can learn more and download an editable PowerPoint about COVID-19: 10 Trends in Consumer Behavior here on the Flevy documents marketplace.
Are you a management consultant?
You can download this and hundreds of other consulting frameworks and consulting training guides from the FlevyPro library.