No free lunch was ever served quickly. Traditional supply chain cannot offer both low prices and fast delivery.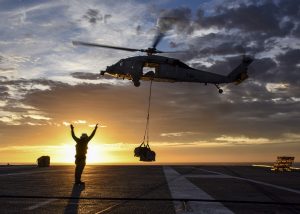 Online retailing has changed. Before, we see e-commerce companies fulfilling consumer demand from a small number of large-scale warehouses that carried a similar catalog of items. Inventory for low-volume products was maintained in a few locations as possible while maintaining service levels that met customer expectations.
Today, consumers are demanding more than just low prices. Consumers are also demanding that products ordered be delivered quickly. As a result, the demand for quick day delivery is now pushing retailers to experiment with new Strategy Development and operation models. Notably, known retailers such as Amazon.com, Nordstrom, and Macy's are redesigning their distribution networks. Retailers today have recognized that the terms of competition have changed.
The Shift from Traditional Online Retailing to Fourth Industrial Revolution: Why the Need for Agility in Supply Chain Network Design
The early days of online retailing were not as competitive as today. Inventory costs were kept low and economies of scale that large fulfillment centers provide are taken advantage of. Consumers were willing to wait for deliveries as proximity and speed were less important than cost savings.
But today, customer expectations go beyond lower prices. The Fourth Industrial Revolution has changed the terms of competition in online retailing.
Achieving same-day delivery has moved retailers to use third parties (local city-specific delivery services) and crowdsourcing (paying individuals by the task to shop for and deliver groceries). Retailers are also looking at setting up physical lockers where customers can retrieve their packages or use of physical store networks to fulfill online orders. Others are adding warehouses near major urban markets and IT solutions are now being used to access real-time sales data and inventory information.
The chain in the online retailing landscape has changed and there is now an increasing need to achieve Agility in Supply Chain Network Design.
Understanding Agility in Supply Chain Network Design
What is putting Agility in Supply Chain Network Design or Distribution Agility? It is the ability to invest in real-time sales and inventory information, coupled with advanced analytics to accommodate fluctuations and changes in the business environment quickly. This is Agility in Supply Chain Network Design.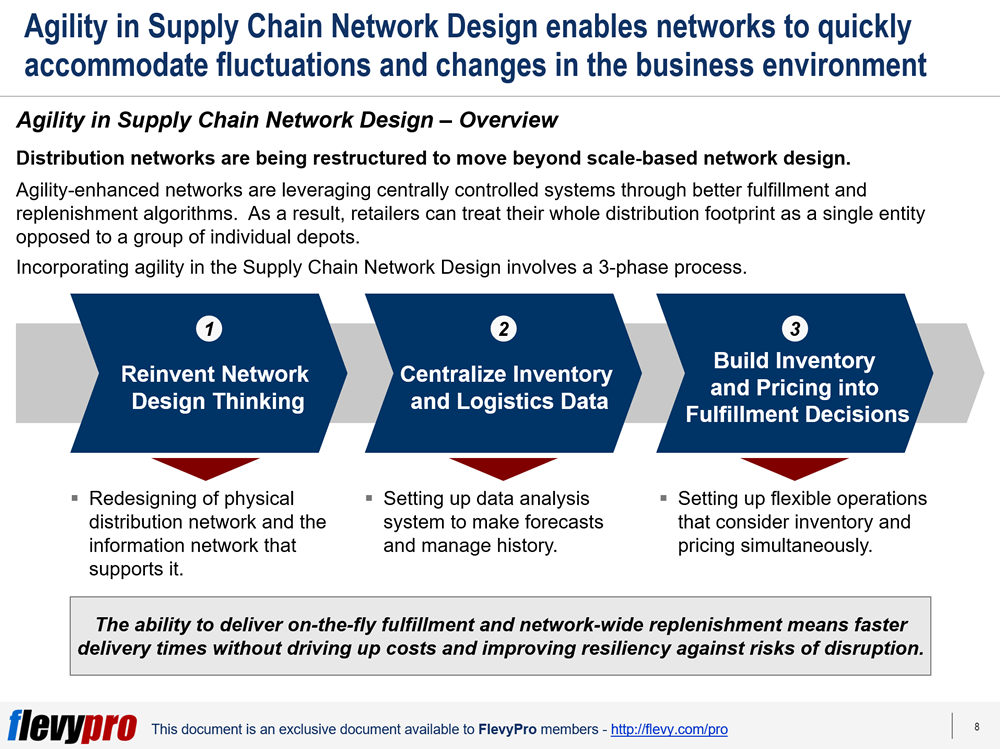 Putting Agility in Supply Chain Network Design requires a 3-phase process. Let us take a look at one of the 3 phases: The First Phase.
The First Phase is to Reinvent Network Design Thinking. This phase has an important implication on cost performance as they relate to customers. It requires redesigning the physical distribution network and the information network for it to be able to support the Supply Chain Network Design. The first phase ensures that the real-time information system is in place that incorporates data on sales by time and location.
Once the first phase is undertaken, this will facilitate an immediate response to agile and traditional systems. This is what Amazon.com Inc. did. Amazon opened 43 small-scale delivery stations and 53 hubs to augment a distribution network of 101 fulfillment centers and 29 sorting centers. They applied real-time stock visibility across the network and intelligent product replenishment and fulfillment to mitigate the cost of trade-off. As a result, it allowed them to effectively and immediately respond to changing consumer demands. While not all online retailers can be like Amazon, yet all can have an Agile Supply Chain Network to make them competitive in today's digital era of Business Transformation.
Putting the other 2 phases in place will complete the entire process of ensuring an Agile Supply Chain Network Design. Why is agility important? Agility in Supply Chain addresses the outmoded conflict between low prices and fast delivery. It enables organizations to build strategies that can make adjustments both at the planning and operation levels.
Interested in gaining more understanding of Agility in Supply Chain Network Design? You can learn more and download an editable PowerPoint about Agility in Supply Chain Network Design here on the Flevy documents marketplace.
Are you a management consultant?
You can download this and hundreds of other consulting frameworks and consulting training guides from the FlevyPro library.