Organizations have, in recent times, become more aware of the worth of regulating their Organizational Knowledge.  Extensive studies in academia have been conducted on the subject, because of its importance.
Organizations learn with time and experience.  The cause-and-effect relationship is gathered in the collective memory of the organization in the form of:
Shared mental models

Standard operating procedures

Rules and routines

Assets
This learning, in some cases, becomes a source of Competitive Advantage for the organization.
New learning, in organizations, is possible when redundant knowledge and bad habits are effectively erased from the organizational memory.  Managing Organizational Forgetting has to be part of Strategic Planning because of:
Wasted resources—Knowledge forgotten, that should not have been, has to be re-acquired by diverting resources that could have been used elsewhere or for acquiring new knowledge.
Opportunity cost—Required knowledge not available (because it was forgotten) at the time an opportunity arose.
Effective Organizational Forgetting should be an Organizational Culture so as to keep organizations on their toes and maybe preserve or gain Competitive Advantage.
Organizations that intend to manage their Organizational Forgetting effectively, need to comprehend 2 dimensions of Forgetting and the relationship between them:
Dimension 1:  Accidental Forgetting vs. Intentional Forgetting
The 1st element pertains to loss of valuable knowledge; the 2nd to increased competitiveness as a result of Forgetting.
Dimension 2: Entrenched Knowledge vs. New Knowledge
The 1st element relates to knowledge embedded in relatively durable objects like machines, databases, taken-for-granted routines; the 2nd to a transient setup like individual minds, association among small teams, makeshift organizational groups.
The process of Forgetting is altered depending on the interaction of the elements of the 2 dimensions.
Interaction of the above 2 dimensions results in 4 processes that constitute the Forms of Organizational Forgetting:
Memory Decay
Failure to Capture
Unlearning
Avoiding Bad Habits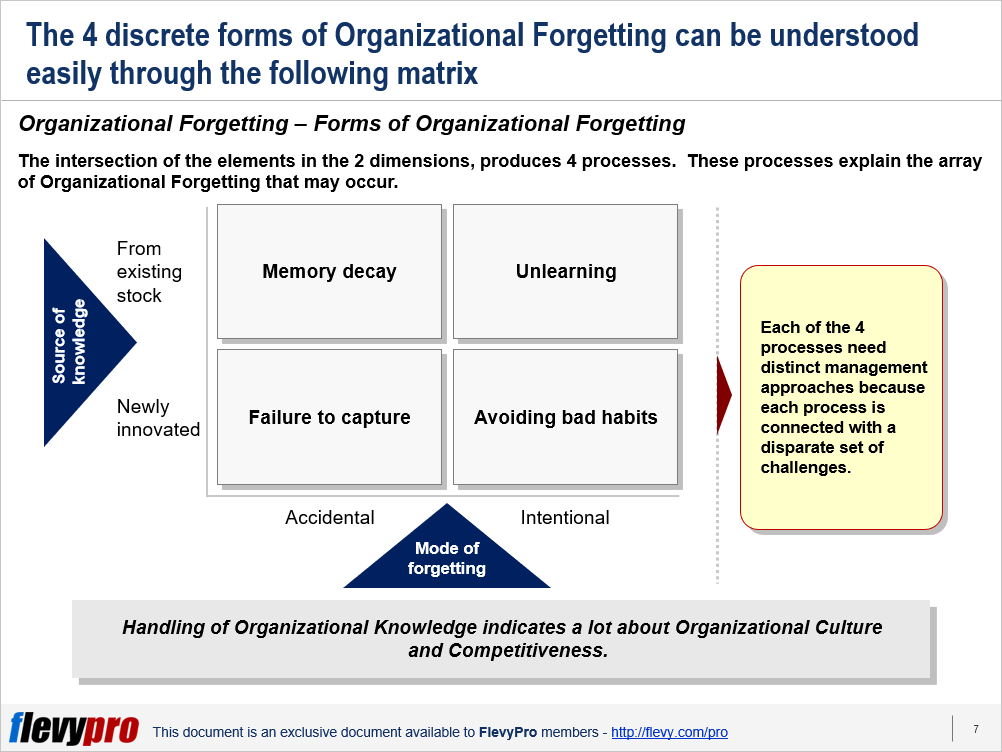 The interaction of the 4 processes has been conveyed in the form of a matrix dubbed the Organizational Forgetting Matrix.  These processes explain an array of Organizational Forgetting that may occur.  Each of the 4 processes need distinct management approaches because each process is connected with a disparate set of challenges.
Let us delve a little deeper into some of the processes.
Memory Decay
Memory Decay occurs when concepts, practices, values are lost because of non-use or key personnel leaving the organization.  Organizations can forget elements long ingrained in their collective memory triggering costly and harmful consequences, like spending large sums to regain knowledge that was a source of Competitive Advantage.
Memory Decay is exacerbated in the process of downsizing.  Extremely valuable pieces of knowledge and skills can be lost if proper retention measures are not put in place.
Failure to Capture
Failure to capture new knowledge and disseminate it throughout the organization, results in loss when individuals bearing that knowledge leave.  Knowledge Articulation and Knowledge Institutionalization are 2 processes that can prevent such loss. 
Unlearning
Intentional Forgetting enhances organizational capability.  Intentional Forgetting can be achieved in 2 ways.  The 1st is strategic removal of knowledge.
Interested in learning more about Organizational Forgetting?  You can download an editable PowerPoint on Organizational Forgetting here on the Flevy documents marketplace.
Do You Find Value in This Framework?
You can download in-depth presentations on this and hundreds of similar business frameworks from the FlevyPro Library.  FlevyPro is trusted and utilized by 1000s of management consultants and corporate executives.  Here's what some have to say:
"My FlevyPro subscription provides me with the most popular frameworks and decks in demand in today's market.  They not only augment my existing consulting and coaching offerings and delivery, but also keep me abreast of the latest trends, inspire new products and service offerings for my practice, and educate me in a fraction of the time and money of other solutions.  I strongly recommend FlevyPro to any consultant serious about success."

– Bill Branson, Founder at Strategic Business Architects
"As a niche strategic consulting firm, Flevy and FlevyPro frameworks and documents are an on-going reference to help us structure our findings and recommendations to our clients as well as improve their clarity, strength, and visual power.  For us, it is an invaluable resource to increase our impact and value."

– David Coloma, Consulting Area Manager at Cynertia Consulting
"FlevyPro has been a brilliant resource for me, as an independent growth consultant, to access a vast knowledge bank of presentations to support my work with clients.  In terms of RoI, the value I received from the very first presentation I downloaded paid for my subscription many times over!  The quality of the decks available allows me to punch way above my weight – it's like having the resources of a Big 4 consultancy at your fingertips at a microscopic fraction of the overhead."

– Roderick Cameron, Founding Partner at SGFE Ltd