Tourism is a key element in creating an impetus for financial growth across the globe.  The sector was providing jobs to around 260 million people and contributing to over 10% in global GDP, based on 2010 numbers.  These numbers will grow in future.
However, these financial benefits do not occur without costs that have the potential to destroy popular destinations and disrupt tourism.  Costs—or adverse effects—of travel involve:
Massive carbon footprints produced by air travel
Changes in the clean environments due to human footprint
Degradation—or obliteration—of ecology because of travel
Climate change happening across the world—e.g., unpredictable weather, mounting sea levels, or land turning into deserts.
Tourism Research by UK's Devon County Council reveals that tourists were considerate of environment when booking their travel, and were willing to pay more for green tourist destinations.  Tour operators, in turn, now regularly rank destinations based on their green services and products, and demand higher green standards from tourist resorts.
However, still a large majority of resorts, hotels, and tourist destinations fall behind in terms of environmental sustainability, green standards, and services.  Some are only hinging on marketing tactics, glossy brochures, and eco-friendly language.  These destinations are only eyeing near-term gains, and are at a high risk for draining their resources, environmental degradation costing fortunes to repair, and losing a sizable potential customer base.
Tourist destinations are facing critical environmental issues—e.g. clean water, carbon emission, protection of biodiversity, and waste reduction / disposal.  These issues necessitate commitment from all stakeholders and having proper structures and systems—i.e. regulations, stakeholders' education, funding, marketing, and public relations—to regulate and promote Sustainable Tourism.
Above all, confronting these issues demand a coherent, carefully-crafted Green Tourism Strategy.  The challenge to devising a Green Tourism strategy is the uniqueness of each destination—in terms of culture, ecology, resources.  Thus, each destination warrants a bespoke strategy encompassing 3 key phases:
Appraising Environmental Health
Plotting the Green Journey
Implementing the Green Strategy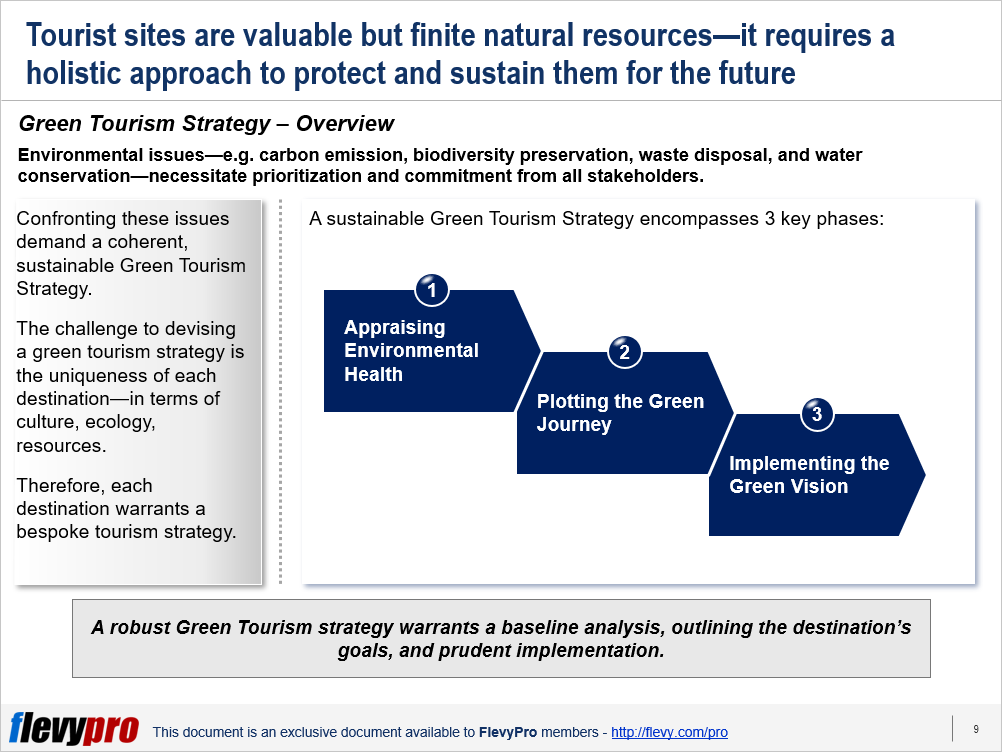 Let's take a closer look at the first 2 phases.
1. Appraising Environmental Health
The first step to devising a Green Tourism Strategy entails carrying out a thorough baseline analysis of the existing environmental health status of the tourist location, to outline its strengths and weaknesses.  This should encompass Benchmarking the site's performance in comparison to global environmental best practices and defining what needs to be done in the near as well as long term (key initiatives), in the order of their importance for the destination.
2. Plotting the Green Journey
This phase entails defining the vision for Green Tourism and taking into account the objectives to realize that vision.  The vision enables the policymakers to plan and choose the measures to be taken to maintain the sustainability of the destination.  These measures fall into 2 categories:
Preventive measures—meant to inhibit or avert any damage to the surrounding ecosystem of the destination. These initiatives are aimed at finding and employing cost-effective solutions and technologies rather than using modern technologies.  These initiatives suit locations with limited funds.
Radical measures—meant for those destinations that are financially sound and want to maintain their status of being leaders in green tourism. These sites are always ready to adopt cutting-edge technologies to safeguard their eco-friendly status.
Interested in learning more about the key phases of Green Tourism Strategy?  You can download an editable PowerPoint on Green Tourism Strategy here on the Flevy documents marketplace.
Do You Find Value in This Framework?
You can download in-depth presentations on this and hundreds of similar business frameworks from the FlevyPro Library.  FlevyPro is trusted and utilized by 1000s of management consultants and corporate executives.  Here's what some have to say:
"My FlevyPro subscription provides me with the most popular frameworks and decks in demand in today's market.  They not only augment my existing consulting and coaching offerings and delivery, but also keep me abreast of the latest trends, inspire new products and service offerings for my practice, and educate me in a fraction of the time and money of other solutions.  I strongly recommend FlevyPro to any consultant serious about success."
– Bill Branson, Founder at Strategic Business Architects
"As a niche strategic consulting firm, Flevy and FlevyPro frameworks and documents are an on-going reference to help us structure our findings and recommendations to our clients as well as improve their clarity, strength, and visual power.  For us, it is an invaluable resource to increase our impact and value."
– David Coloma, Consulting Area Manager at Cynertia Consulting
"FlevyPro has been a brilliant resource for me, as an independent growth consultant, to access a vast knowledge bank of presentations to support my work with clients.  In terms of RoI, the value I received from the very first presentation I downloaded paid for my subscription many times over!  The quality of the decks available allows me to punch way above my weight – it's like having the resources of a Big 4 consultancy at your fingertips at a microscopic fraction of the overhead."
– Roderick Cameron, Founding Partner at SGFE Ltd