Performance evaluation serves as a health check on operations and individuals' work.  The organizational maturity notion signifies the progress of an organization in terms of developing its people, processes, technology, and capability by implementing quality practices.  Organizations aiming to achieve the highest maturity levels in performance need to take care of the intricacies involved in deploying a Performance Management system and the relationships it has with the other key organizational activities.
Performance Management processes in organizations can be assessed using maturity levels, by measuring the implementation of Performance Management tools, analyzing the availability of internal Performance Management processes in place, assessing the structures, procedures, and interactions utilized to direct Performance Management systems.
An organization's performance maturity is assessed on 5 levels of progressive growth.  These 5 stages present a valuable dashboard to gauge the implementation of the corresponding levels of the Performance Management Maturity Model.
Initial 
Emergent
Structured
Integrated
Optimized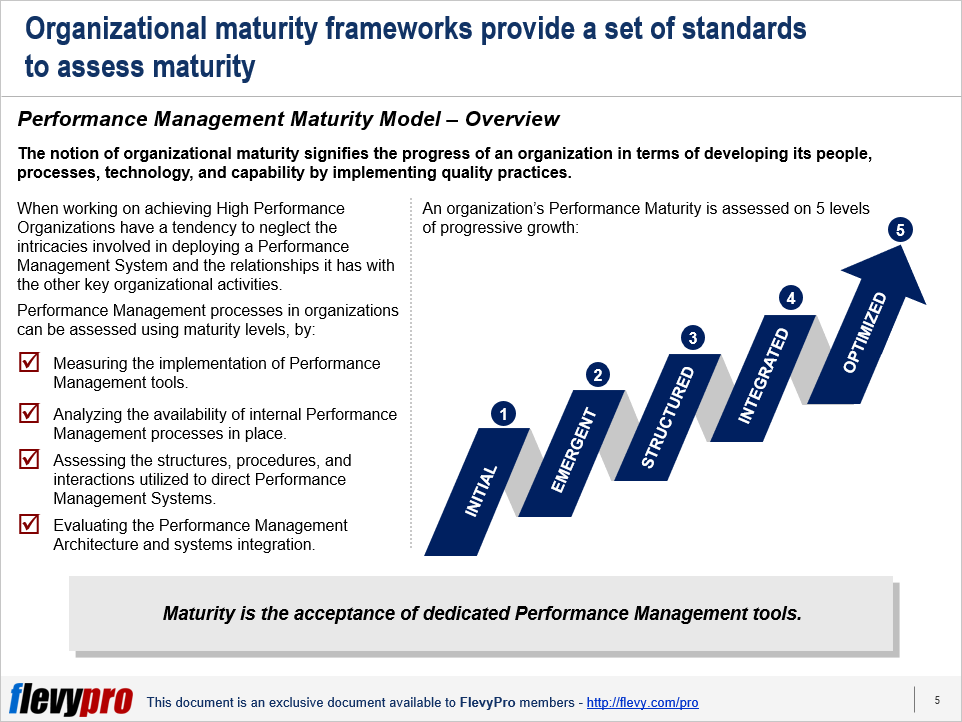 To achieve maturity in performance management, organizations need to build capabilities in 5 core elements—referred to as "Operational Levers"—Tools, Processes, Governance, Architecture, and Integration.
Initial Stage
The organizations at the first performance maturity level are not acquainted with—or totally unfamiliar of—the tools necessary to implement the Performance Management system.  The Performance Management processes are typically inconsistent.  Organizations at this maturity level do not practice employee empowerment, development, and innovation.  There is a dearth of appropriate KPI calculation approach and the performance architecture is in its budding stage.  Roles and responsibilities, importance of KPIs, and individual/organizational indicators are unclear to employees.
The level is characterized by casual strategic planning practices—dependent on top management experience—with ill-structured communication mechanisms.  The initiatives lack alignment with organizational goals.  Leadership involvement in mentoring and developing employees is at sub-optimal levels.  Staff motivation and increasing their engagement levels is not given due importance.
Emergent Stage
The organizations at the second level of Performance Maturity have a strong desire to improve performance.  At this stage, organizations begin exploring Performance Management tools, but have uncoordinated and un-standardized internal processes and systems.  Initiatives to integrate performance management procedures are planned with clearly defined objectives and expectations.
However, at this level, strategy does not deliver value and is not more than formal documentation.  Managers are assessed based on performance results, but not the lower hierarchical levels.  There is unclear articulation of company goals, misalignment at various organizational hierarchical levels, and incompetent communication.  A few basic performance measurement methods—e.g., KPI selection and documentation are embraced by the organization.  The KPI selection process, however, lacks appropriate yardsticks, tools, standardized forms/templates, and approaches.  Performance evaluation and reporting processes exist but are deficient in clear communication by the leadership.  Leadership possesses a basic understanding of performance measurement processes.  Measuring performance at the individual level is uncommon at this maturity level.  Performance review meetings are short of delivering the insights required to make critical decisions.
Structured Stage
The "Structured" stage of the Performance Management Maturity Model is characterized by well-coordinated and carefully regulated Performance Management processes.  Organizations at this stage have a defined set of Performance Management tools.  There are standardized Performance Management practices with well-defined and improved process flows.  There is typically an inconsistent approach towards adopting an aligned Performance Management architecture though.
Organizations at this level employ strategy monitoring tools—e.g., scorecards and dashboards—but do not cascade these at the lower ranks and files.  KPIs are selected based on a clear-cut criteria, established tools and methods, and agreement across the board.  Standardized forms are used to document and report KPIs.  The KPI targets are established utilizing data, benchmarking, and comparing market figures.  Organization-wide performance evaluation data is gathered and disseminated at all levels.  People, largely, have a fair understanding of their personal and organizational performance goals.  A well-defined Performance Management system is in place with appropriate templates, procedures, and governance structures ready for each Performance Management cycle.  Incentives and training and development opportunities help improve performance.
Interested in learning more about the other stages of the Performance Management Maturity Model?  You can download an editable PowerPoint on the Performance Management Maturity Model here on the Flevy documents marketplace.
Are you a Management Consultant?
You can download this and hundreds of other consulting frameworks and consulting training guides from the FlevyPro library.