Human judgment can be unreliable as these are all susceptible to errors. In Strategy Development,  organizations make a lot of strategic decisions.  These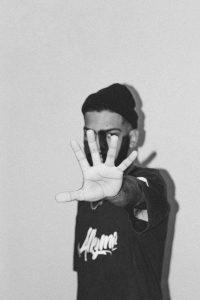 strategic decisions share a common feature: they are evaluative judgments.
In making these tough calls, a large amount of complex information must be weighed down and evaluated.  While some management decisions are made without weighing quite so much information, yet strategic decisions involve the distillation of complexity into a single path forward.
With the unreliability in judgment, particularly in decision making, there is a need for a practical, broadly applicable approach to reducing errors. This approach is called the Mediating Assessments Protocol (MAP).
 Why Human Judgment Can Be Unreliable
Human judgment can be unreliable as evaluations are susceptible to errors. These errors stem from known cognitive biases. There can be a tendency to give more weight to information that comes to mind easily because it is recent or striking than other more important facts.  We have the tendency to notice, believe, and recall information selectively which confirms our preexisting hypotheses and beliefs.
Making decisions can also be affected by the Mental Model we have formed. This is an impression of a complex situation that is often less nuanced and more coherent than the reality it represents. When decision making is influenced by biases, there will be errors in decision making.
The 3 Core Elements of MAP
MAP or Mediating Assessments Protocol is a structured approach to Strategic Decision Making. It consists of 3 core elements.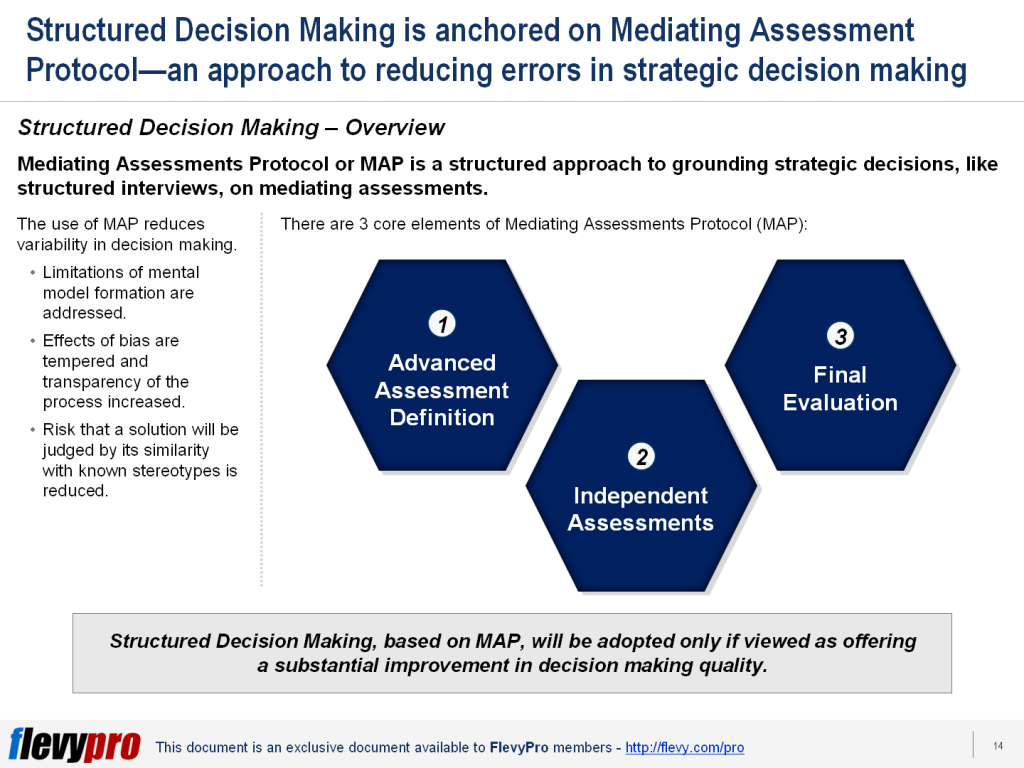 Advanced Assessment Definition. The first core element requires the identification of mediating assessments. Mediating assessments are key attributes critical to the evaluation.
Independent Assessments. The second core element is grounded on the evidence available. It uses fact-based independently made assessments.
Final Evaluation. The third core element is undertaken when the mediating assessments are complete. The final decision is discussed only when all key attributes have been scored and a complete profile of assessments is available. However, the final evaluation may not be undertaken if a deal breaker fact has been uncovered.
Understanding the Importance of MAP
Any organization is a decision factory. Many decisions made can shape the future of organizations. At the same time, many decisions have caused organizations to fail. Decisions, unlike physical products, cannot be quality checked. However, it can be improved by working on processes by which they are made.
Mediating Assessments Protocol (MAP) is an approach that can bring quality assurance to complex decisions. One of its strategic application is in structuring one-off decisions.
Structuring one-off strategic decisions is a type of strategic decision that makes use of explicit assessment as a basis for the decision. It requires leaders to make separate, explicit assessments of each aspect.
The use of MAP in structuring one-off decisions can limit the risk that a compelling narrative will sway board discussions and affect quality decisions.  When there is a rigor of formal structure in strategic decision making, it has the benefit of sequencing the process resulting in more quality decisions.
The use of MAP requires very trivial extra effort yet it can bring a lot of benefits. Board discussions are more organized and focus than the usual process, but is not necessarily longer or more contentious. Important facts are less likely to be overlooked and thoughtful, self-critical consideration of trade-offs is more likely to occur.
Most importantly, the use of the MAP can lead to producing strategic outcomes when used in structuring recurring decisions.
Interested in gaining more understanding of Strategic Decision Making? You can learn more and download an editable PowerPoint about Strategic Decision Making here on the Flevy documents marketplace.
Are you a management consultant?
You can download this and hundreds of other consulting frameworks and consulting training guides from the FlevyPro library.