Richard Branson, British business and philanthropist once said: "One day, offices will be a thing of the past."
While organizations still need to travel to reach their physical offices, the rapid changes in the world are requiring businesses to form Virtual Teams. A Virtual Team refers to a group of individuals who work together from different geographic locations and rely on communication technology such as email, voice conferencing services, fax, etc.
Virtual Teams work well for an organization and is effective even from a communication perspective. In fact, it is known to complement well the Lean Management approach used by organizations. Studies from previous years have shown that well-managed, widely spread, Virtual Teams have been outperforming those that share office space. In fact, it has shown that using Virtual Teams can improve employee productivity by 45%.
In today's highly competitive global economy, to be able to work smarter, organizations must be able to leverage the manifold benefits of a remote workforce. Likewise, organizations must also be able to manage challenges that come with working with Virtual Teams.
More organizations are opting to work with virtual teams. Virtual teams may have their benefits but it also has its challenges. Being able to manage these challenges will enable organizations to seize the benefits of remote workers.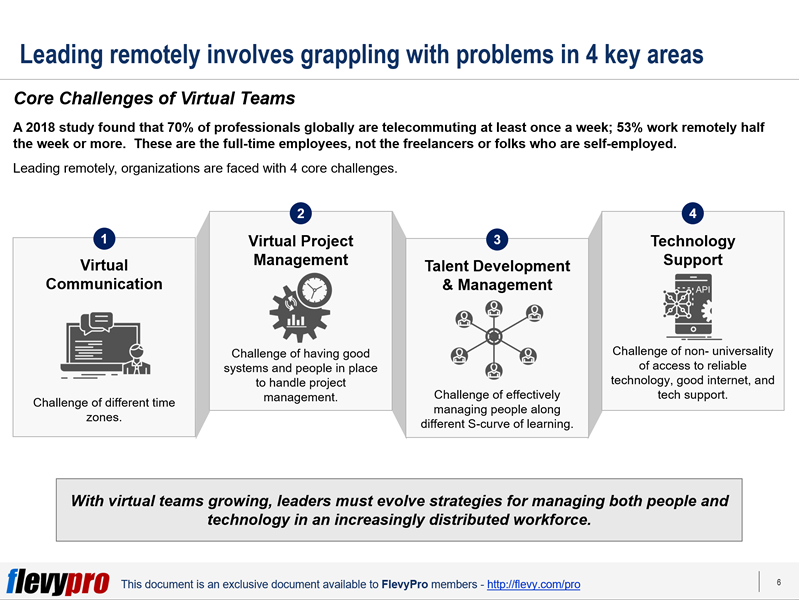 There are 4 core challenges that organizations face when working with Virtual Teams. Let us take a look at the 2 core challenges.
Virtual Communication. Having different time zones can be a challenge. This can lead to layers of complexity to the logistics of everyday communication. When time zones do not match, it can lead to less and less information being transmitted and can cause miscommunication. When working in a different time zone, there is a tendency to exchange information using email or instant messaging. But these may not be enough as it cannot convey as much meaning compared to vocal tone, facial expression, and physical gestures.
Virtual Project Management. When working with virtual teams, the business must have a proper system and people in place. Virtual Project Management may cause some confusion and even delays. While digital tools are in place to facilitate remote project management and collaboration, it can be difficult at times to tell what each person is contributing. In fact, organizations need to put up a system to track whether the members of the virtual team are doing their required tasks.
In this digital era, Virtual Teams are becoming the new face of business operation and aligning itself with Digital Transformation. This is a global reality that businesses must accept. However, working with Virtual Teams brings a lot of challenges not only in Project Management and Virtual Communication but also in Talent Development and Technology Support. Talent Development and Technology Support are two other core challenges that can make an impact on the Virtual Team. How it is managed will define the success of your Virtual Team.
In hindsight, Virtual Teams can also bring so many benefits. Hence, it is not surprising that despite the challenges, a lot of businesses still prefer to work with Virtual Teams.
One core benefit is increased access to top talent. The world has become a global market for expertise and talents. Businesses can extend their reach to other countries in their search for needed expertise. In fact, working with virtual teams will open opportunities for businesses to work with experts in various fields with various experiences. Being able to employ the best and the brightest is more than enough for businesses to continue working with Virtual Teams and conquering challenges. Businesses just need to have appropriate support programs to give Virtual Teams a home-field advantage.
Interested in gaining more understanding of  the challenges & benefits of Virtual Teams? You can learn more and download an editable PowerPoint about Virtual Teams: Challenges & Benefits here on the Flevy documents marketplace.
Are you a management consultant?
You can download this and hundreds of other consulting frameworks and consulting training guides from the FlevyPro library.