COVID-19 is shaping a "New Normal"—a Low Touch Economy that requires a strategic response.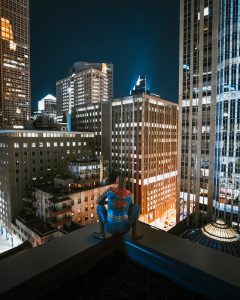 The world is changing. Forced isolation and social distancing restrictions have been put into place with the advent of the COVID-19 health crisis. This is not expected to end soon but is expected to have a lasting effect on the world. In fact, a new generation of consumer behaviors is already being shaped.
The new world will not be better off or worse. It will be different. During this period of influx, some businesses will thrive in this change and reach accelerated success, while others will struggle to find their footing in all of the chaos. The Low Touch Economy is here.
The New Normal
The post-COVID-19 era will have an economy shaped by new habits and regulations based on reduced close contact interaction, tighter travel, and hygiene restrictions. While managing the current health crisis is the first priority, companies must start adapting its strategic response to the mid and long-term ripple effects of COVID-19.
Businesses, to survive, must learn how to effectively respond to COVID-19 that is marked with plenty of ups and downs and economic uncertainty. There will be fundamental shifts that are here to stay and there will be industries that will be turned upside down. Until there is a vaccine or herd immunity, the base case scenario will be continuous up and down of disruptions for the coming 2 years. Strategy Development now calls for business to make the right strategic approach.
The 3-phase Approach to Strategic Planning
During turbulent times, businesses must have the agility to switch from defense to offense. Taking the 3-phase approach to Strategic Planning will prepare organizations for the Low Touch Economy.
Phase 1: Protect
The first phase is focused on acting now to protect and run the business today. It is basically responding to the crisis and protecting the business. The primary objective of Phase 1 is to ensure the continuity and stability of the business despite the ongoing crisis.
This is best undertaken when employees and customers are grappling with one basic emotion and that is fear. The organization is faced with a declining revenue with prospects of liquidity freeze. Unfortunately, time horizons at this phase also remain uncertain.
When these scenarios are happening, the organization must strive to undertake strategies that will both protect the business, as well as ensure its continuity and stability. One strategy that must be undertaken is to put the safety of employees and customers first. With the advent of COVID-19, this is considered the most urgent thing to do and the most important. Once this has been taken care of, senior leaders can set up a war room where they can tackle immediate challenges.
The war room discussions must shift from just being reactive to being proactive when it comes to crisis management. At this point, model scenarios that are developed must be more aggressive than any of the team can think of. It has to be aggressive in the sense that it is capable of protecting the business from the disruption that COVID-19 is greatly inflicting on the organization.
At this time, during this phase, this is the best time too to invest in Innovation Management and R&D. While others are stalling, the most innovative companies spend more on R&D during the recession. The other 2 phases are Recover and Grow. Phase 2, Recover is focused on accelerating through the recovery and Phase 3, Grow is focused on achieving growth in the Low Touch Economy.
In what phase is your organization now? Are you Protecting? Recovering? or Growing?
Interested in gaining more understanding of Strategy Development to respond to COVID-19? You can learn more and download an editable PowerPoint about Strategy Development: Responding to COVID-19 here on the Flevy documents marketplace.
Are you a management consultant?
You can download this and hundreds of other consulting frameworks and consulting training guides from the FlevyPro library.