The uncertain times, coupled with the COVID-19 pandemic, have spur leaders to reflect on what kind of organization, culture, and
operating model they need to put in place. This is to avoid returning to previous patterns of behavior and instead, be able to embrace the next normal.
In this rapidly changing environment, people in organizations need to respond with urgency, without senior executives and traditional governance slowing things down. Waiting to decide, or even waiting for approval, is the worst thing to happen. Today, some level of coordination across teams and activities is crucial for the organization's response to be effective.
Getting Ready for Business Resilience
Business Resilience is a management approach that integrates many disciplines into a single set of integrated processes. It is an enterprise-wide term that encompasses Crisis Management and Business Continuity.
Business Resilience enables organizations to face a wide range of risks—risks that can cause long-term harm, from a financial penalty to reputational damage. This is further emphasized with the global economy greatly affected by COVID-19, a pandemic that has overturned business and rattled the entire global business environment.
Addressing the COVID-19 pandemic
Leaders across industries cannot treat the Coronavirus pandemic like any other event. COVID-19 is unlike any other event. No single executive has the answer. In this rapidly changing environment, organizations need to respond with urgency. There are several initiatives that can be undertaken and integrated in Strategy Development. One of these initiatives is to build Team Resilience through the creation of a Network of Teams.
A Network of Teams is a cohesive and adaptable network of teams that are united by a common purpose. It is empowered to operate outside of the current hierarchy and bureaucratic structures of the organization.
The 4-phase Approach to Creating a Network of Teams
The Network of Teams needs to be created in phases for it to be effectively cohesive and adaptable.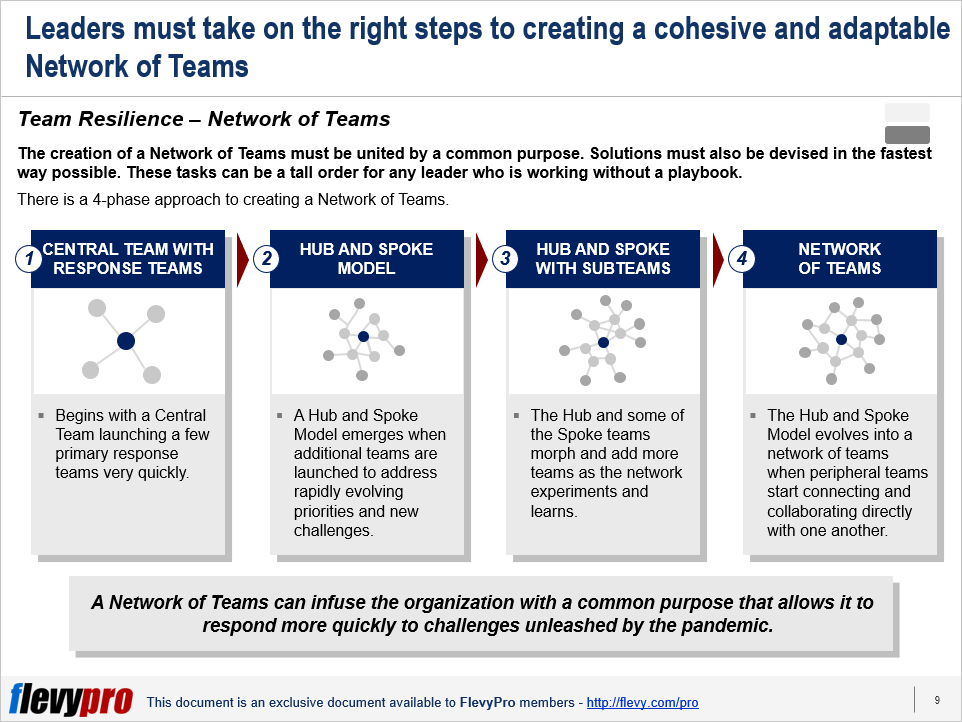 Phase 1: Central Team with Response Teams. Phase 1 begins with a Central Team launching a few primary response teams very quickly. There are several key considerations that must be underscored in Phase 1.
Organizations must create teams that will tackle current strategic priorities and key challenges facing the organization. The model that is to be built must be flexible and capable of shifting when mistakes happen. The network must be created to learn, using the information to update actions and strategies. It must spur experimentation, innovation, and learning which is done simultaneously among many teams. There must be spontaneous learning in the face of challenges and opportunities at the individual, team, and network-wide levels.
Team leaders must be creative problem solvers with critical thinking skills, resilient, and battle-tested. Having teams that can respond to the dynamic demands of the external environment is one of the strengths of the network approach.
Phase 2: Hub and Spoke Model. The Hub and Spoke Model emerges when additional teams are launched to address rapidly evolving priorities and new challenges.
After the initial set of teams are created, leaders must shift toward ensuring that multidirectional communication takes place. There should be steady coordination with the central team hub in a daily stand-up meeting. Central Hub must make sure that support teams are using first-order problem-solving principles.
Leaders must take the role of catalyst and coach. The primary goal is to empower teams and support them at the same time, without micromanaging.
The next phase is Phase 3: Hub and Spoke with Subteams and Phase 4: the Network of Teams. The Hub and Spoke Model evolves into a Network of Teams when peripheral teams start connecting and collaborating directly with another.
With the Network of Teams, all self-organizations are turbocharged ready to face any disruptions the business has to encounter.
Interested in gaining more understanding of Team Resilience? You can learn more and download an editable PowerPoint about Team Resilience here on the Flevy documents marketplace.
Are you a management consultant?
You can download this and hundreds of other consulting frameworks and consulting training guides from the FlevyPro library.