Organizations can change over the years. Change may happen because that is what the customers expect or it is because the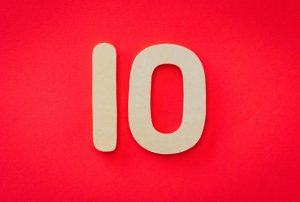 organization gets to have even the most coveted skills. Despite the changes, there are those that stay the same—the organization's brand, its unique culture, and its shared lexicon. These are the underlying organizational and cultural design factors that define an organization's personality. Metaphorically, these are called Organizational DNA. The Organizational DNA can indicate whether the organization is strong or weak in executing strategy.
Today, execution has come to a fore as organizations fail to effectively implement strategies. Organizations now realize that it must first resolve this dysfunction by understanding how the inherent traits of an organization influence and even determine each individual's behavior. The idiosyncratic characteristics of an organization can be codified using the DNA. When the DNA of an organization is purely configured, unhealthy symptoms and counterproductive behaviors are demonstrated. High performing organizations have shown that there are precepts that they closely follow to ensure that their Organizational DNA is in order.
The 10 Principles of Organizational DNA
The 10 Principles of Organizational DNA are the precepts upon which high-performance companies are built on.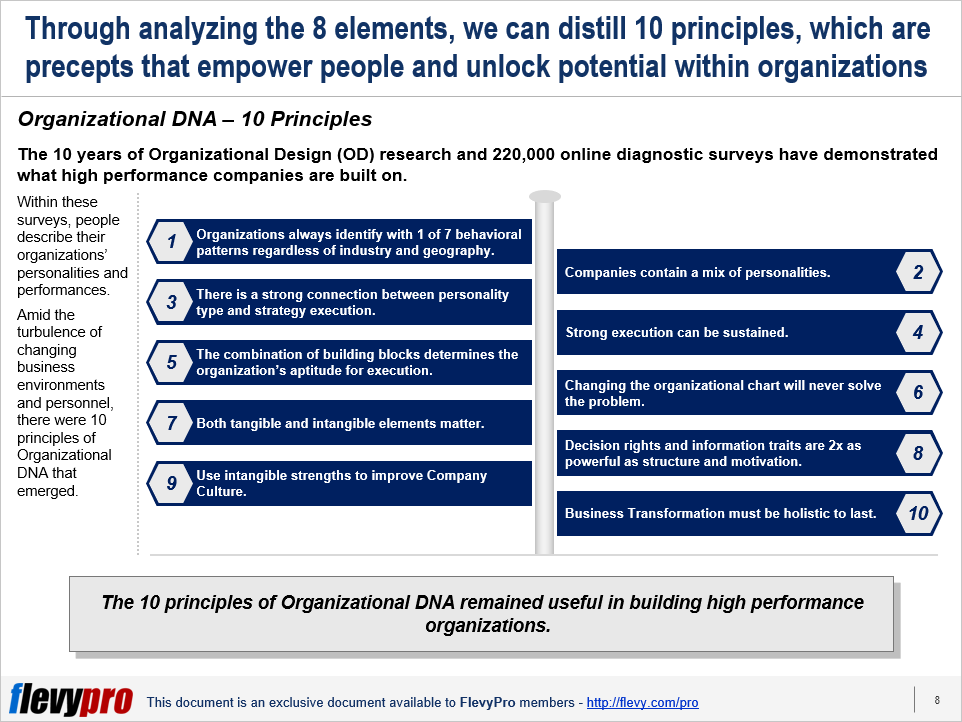 Let us take a look at 5 of the 10 Principles of Organizational DNA.
Organizations always identify with 1 of 7 behavioral patterns regardless of industry and geography. Enterprise-wide behavior can either be passive-aggressive, overmanaged, outgrown, fits-and-starts, just-in-time, military-precision, or resilient. The complication here is that companies can face and conquer even the most pernicious performance problems by changing personalities. When this happens, it is crucial that the company must be ready for any problems that may arise as a result of the change in personality type. The inability to address these problems may be detrimental to the organization. Changing personality is not easy. It must be well-studied and strategically planned.
Companies contain a mix of personalities. Business units fall under different archetypes, particularly in major acquisitions. At this stage, it is possible that a resilient organization may have a division that matches the fits-and-starts profile, characterized by smart entrepreneurial talent. However, despite that, it may lack the collective discipline necessary.
There is a strong connection between personality type and strategy execution. In the survey conducted, 48% of the respondents fit a profile that is distinguished by weak execution. Passive-aggressive organizations may have people who pay lip service to results but they may consistently undermine some necessary efforts.
Strong execution can be sustained. Organizations with a strong execution archetype cannot afford to be complacent. Leaders must continually seek feedback from the market, encourage and act on criticism from customers and frontline employees, and take action to address minor issues. These must be done before any problem gets bigger.
The combination of building blocks determines the organization's aptitude for execution. Organization DNA is made up of 4 building blocks. These are decision rights and norms, motivation and commitments, information and mindsets, and structure and networks. Complications may come in when companies decide to improve execution. At this point, building blocks must be considered and these must be considered as a whole and not individually.
The other 5 core principles of Organizational DNA are essentially necessary. Even the company with the most desirable profile, the resilient organization, must continually stay at the top of the game. Hence, it is essential that organizations must adopt the most appropriate behavioral pattern and personality to be able to build high-performance organizations. Strategy Development must be able to integrate into the organization's Business Transformation the 10 core principles of Organizational DNA.
Interested in gaining more understanding of these  principles of Organizational DNA?? You can learn more and download an editable PowerPoint about Organizational DNA: 10 Core Principles here on the Flevy documents marketplace.
Are you a management consultant?
You can download this and hundreds of other consulting frameworks and consulting training guides from the FlevyPro library.