More sophisticated managers explicitly use Key Performance Indicators (KPIs) to promote cross-functional--not just vertical--alignment. For them, KPIs are the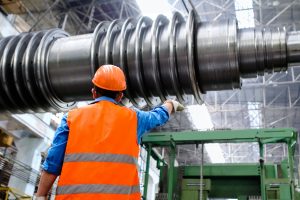 means and methods for rigorously defining and measuring the fundamentals that matter.
Why are KPIs important? If used effectively, KPIs can clearly track value creation and deliver value for its stakeholders – customers, employees, and investors.
KPIs are being used by organizations in different ways. Yet, there are clear and measurable differences that exist in terms of how it is being used. There are organizations that use KPIs to monitor and assess performance while there are those that use KPIs to guide and drive performance improvements. Data-driven and customer-oriented leaders use KPIs in practicing Customer-centric Design, while those more concerned with hitting their numbers remain focused on efficiencies.
There are 4 primary best practices for Key Performance Indicators that organizations should follow. These best practices are every organization's guide to using KPIs to drive performance improvements.
The 4 KPIs Best Practices
The 4 KPI Best Practices can demonstrate the effective use of KPIs to reflect and illuminate the strategic priority of organizations.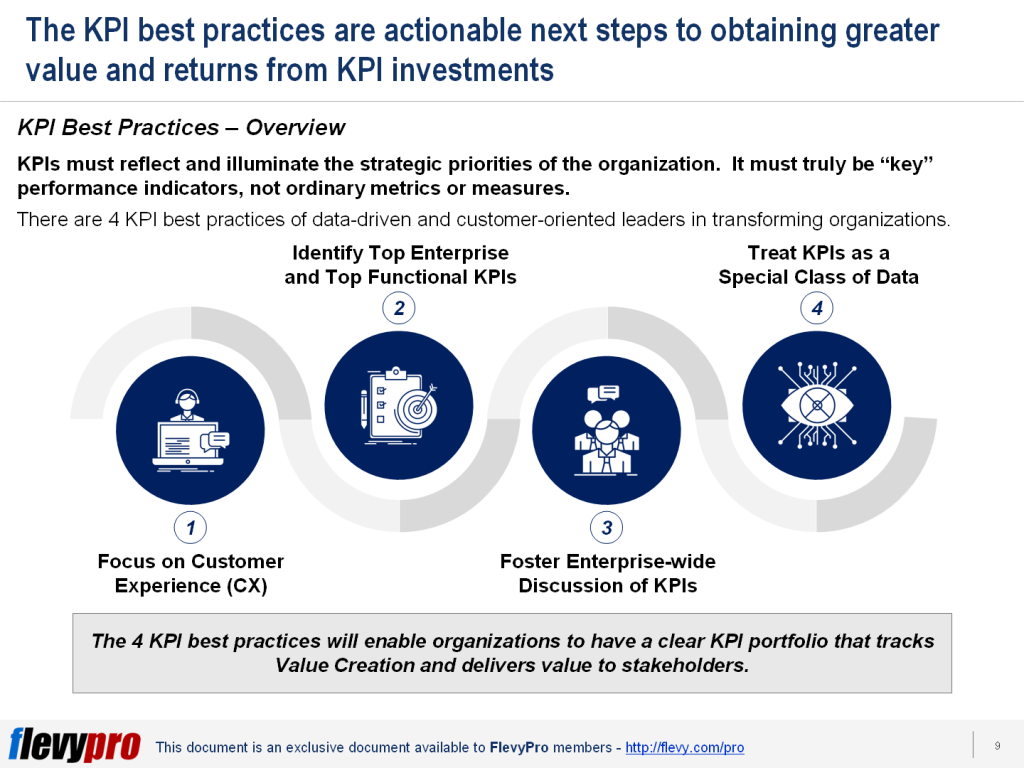 Focus on Customer Experience (CX). The first KPI Best Practice, Focus on Customer Experience is focused on an increased understanding of customers' wants and needs. There is a renewed emphasis on learning more about users of products. The main objective of focusing on customer experience is turning customers into brand advocates and evangelists. When KPIs are focused on customers beyond the sales funnel, this encourages an organization to realign itself around sharing, coordination, and collaboration.
Identify Top KPIs. When top KPIs are identified, it is basically identifying the priority KPIs. Doing this requires identifying the appropriate number of KPIs to prioritize. There are guide questions than can help organizations in the prioritization of the KPIs. One of the questions can be "Is there a consensus on how KPIs affirm and support strategy? Another significant question can be one that points to how directly the functional KPIs contribute to enterprise success. When going through this process, it is important that leaders understand how KPIs interrelate and align.
Foster Enterprise-wide Discussion of KPIs. A very critical Best Practice, the third KPI Best Practice is focused on reinforcing the company's culture. In fostering enterprise-wide discussion of KPIs, KPIs must be central to leadership conversations around driving organizational behavior and change. It is not merely an assessment tool. If KPIs are not front and center at a management meeting, there is something wrong with the meeting, the management, or the KPIs.
Treat KPIs as Special Class Data. Treat KPIs as Special Class Data is the fourth KPI Best practice that is essential in process transformation and automation. Organizations must understand that data and analytics are the raw ingredients of KPIs. KPIs special class as a data asset will become even more important as they become an input to ML algorithm and process automation. In the years to come, organizations can expect that data capability that supports more complex KPIs will become a source of competitive advantage.
What Matters Most
It is very clear that KPIs play a vital role in directing the priorities of organizations. With the changing global economy, organizations have been recognizing the importance of Customer Focus. In fact, it has taken a priority seat and identified as the top KPI by executives.
But does this hold true to all organizations? Identifying top KPIs is important but organizations must know the right way to identify the appropriate number of KPIs and prioritize them. It is important to note that KPIs must align well with the organization's internal processes with its external customer behaviors.
Customer Focus is a priority, but is it also your priority KPI?
Interested in gaining more understanding of the KPI best practices? You can learn more and download an editable PowerPoint about Key Performance Indicators (KPIs) Best Practices here on the Flevy documents marketplace.
Are you a management consultant?
You can download this and hundreds of other consulting frameworks and consulting training guides from the FlevyPro library.