The most resilient and consistently successful companies have discovered that the devil is in the details of the organization. No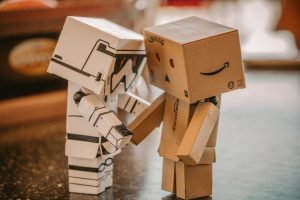 company may ever totally master the enigma of execution. But for them organizing to execute has truly become a competitive edge.
Execution only becomes effective when the company's DNA is holistically integrated. This means weaving intelligence, decision-making capabilities, and a collective focus on common goals widely and deeply into the fabric of the organization so that each person and unit is working smartly and together.
The best Organizational Designs are adaptive, self-correcting, and robust. But creating such an organization does not happen quickly. It can take several years to get the basic right.
In understanding Organizational DNA, one needs to have a full grasp of the 4 bases of Organizational DNA, as well as the 8 core elements of the Organizational DNA. While the 4 Bases are the building blocks, the 8 core elements are the blueprint for Organizational Design.
The 4 Building Blocks of Organizational DNA
Organizations must have a good operational understanding of the 4 Building Blocks of Organizational DNA to better perform effectively and efficiently. The 4 Building Blocks are Structure, Decision Rights, Motivator, and Information.
Structure is the organization of business units around customers, products, or geography. In principle, structural choices are made to support a strategy. However, in practice, often a company's organizational structure and strategic intent do not match.
Decision Rights specify who has the authority to make which decisions. Often, these put the flex o the organization chart and define where responsibility lies.
Motivators are incentives, rewards, and systems that enable employees to perform their functions well. It shows how people respond rationally to what they see, understand, and rewarded.
Information is one critical base in the company's DNA that underly the company's ability to ensure clear decision rights and motivate people. Information is among the most underappreciated contributors to Operational Excellence and competitive advantage. Often, better information flows did more than keep costs down. It helps allocate scarce resources far more efficiently than before.
Discovering the 8 Elements of Organizational Design
It is best to understand the 8 Elements of Organizational Design as it is the blueprint for Organizational Design.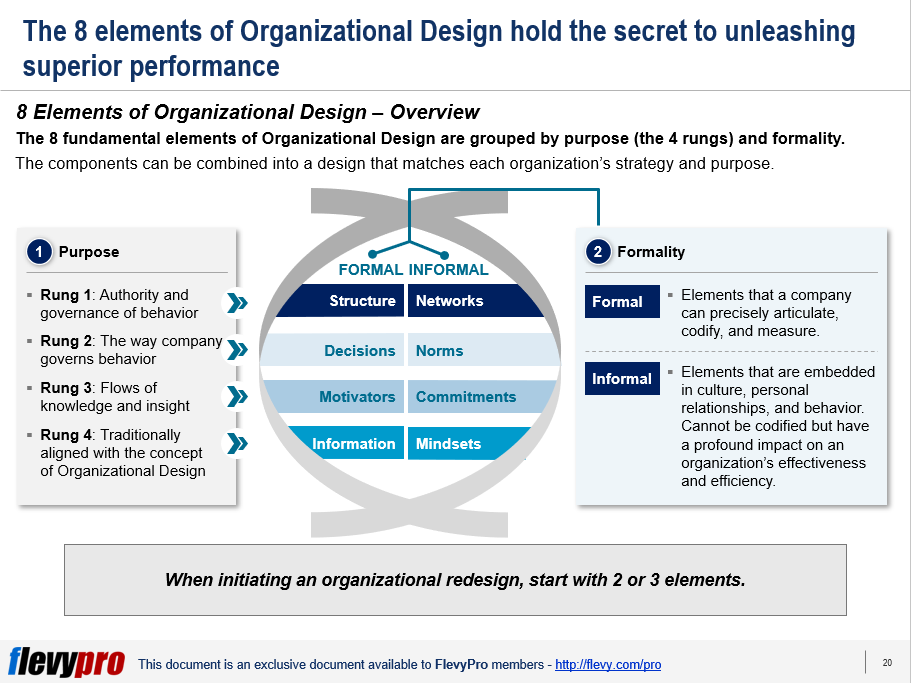 Let us take a look at the first 2 rungs. The first 2 rungs focus on Authority, governance of behavior, and how a company governs behavior.
Rung 1: Authority and governance of behavior
In terms of formality, in the formal part, how decisions are made are elements that a company can precisely articulate. This can be expressed through governance forums, decision rights, decision processes, and decision analytics.
In the informal part, how people instinctively act or take action is the informal part. This can refer to values and standards, expectations, and unwritten rules, and behaviors.
Rung 2: The way a company governs behavior.
The formal part is the Motivators on how people are compelled to perform. These can be represented by monetary rewards, career models, and talent processes.
The informal part is commitment. It is how people are inspired to contribute. It is represented by shared visions and objectives, individual goals and aspirations, and sources of pride.
The first 2 rungs are essential in ensuring that the Organizational Design has a balance of both authority and behavior.
The 3rd and 4th rungs focus on flows of knowledge and insight, as well as structure and networking. These 2 rungs are essentially important in ensuring that appropriate structure and network is in place to support flows of information and insights.
Interested in gaining more understanding of the 4 building blocks to Organizational DNA? You can learn more and download an editable PowerPoint about Organizational DNA: 4 Building Blocks here on the Flevy documents marketplace.
Are you a management consultant?
You can download this and hundreds of other consulting frameworks and consulting training guides from the FlevyPro library.