Functional organizations are facing dramatic changes. Businesses are becoming more focused around capabilities and demand leaders of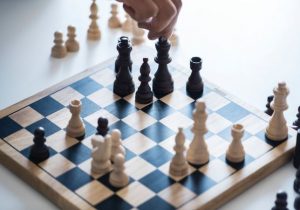 functions to play a more strategic role. With a less stable environment and more intense competition, a premium is put on agility and flexibility with an increased emphasis on performance results. In effect, functions are pressured to boost operation excellence while reducing costs.
But given the day-to-day transactional needs of business and the long-range in-depth efforts to build distinctive capabilities, how can Functional Leaders take on a new strategic role.  With this dilemma, a new functional agenda is required.
 Functions exist to carry out many specialized tasks that our company needs to be done.  Human Resources recruit employees, manage benefits transactions, and oversee the evaluation and promotion process.  Information Technology supports the company's computer systems.  Finance takes charge of all processes related to accounts, debts, and taxes.
On the other hand, functional roles are transactional in nature.  They fulfill day-to-day needs, meet legal and regulatory requirements, and accommodate requests from every business unit.  They put out the inevitable firsts that erupt when there is a conflict or urgency.
When Functional Leaders are asked to improve, it is basically doing the same thing but in a more efficient way and at a greater cost saving. Functional organizations are facing dramatic changes. The past years have seen Functional Leaders shifting into playing a more strategic role. Likewise, Functional Organizations must take on a new strategic role without having functions torn into two.
The Strategic Functional Organization Framework
The Strategic Functional Organization is anchored on a framework build upon 3 core elements.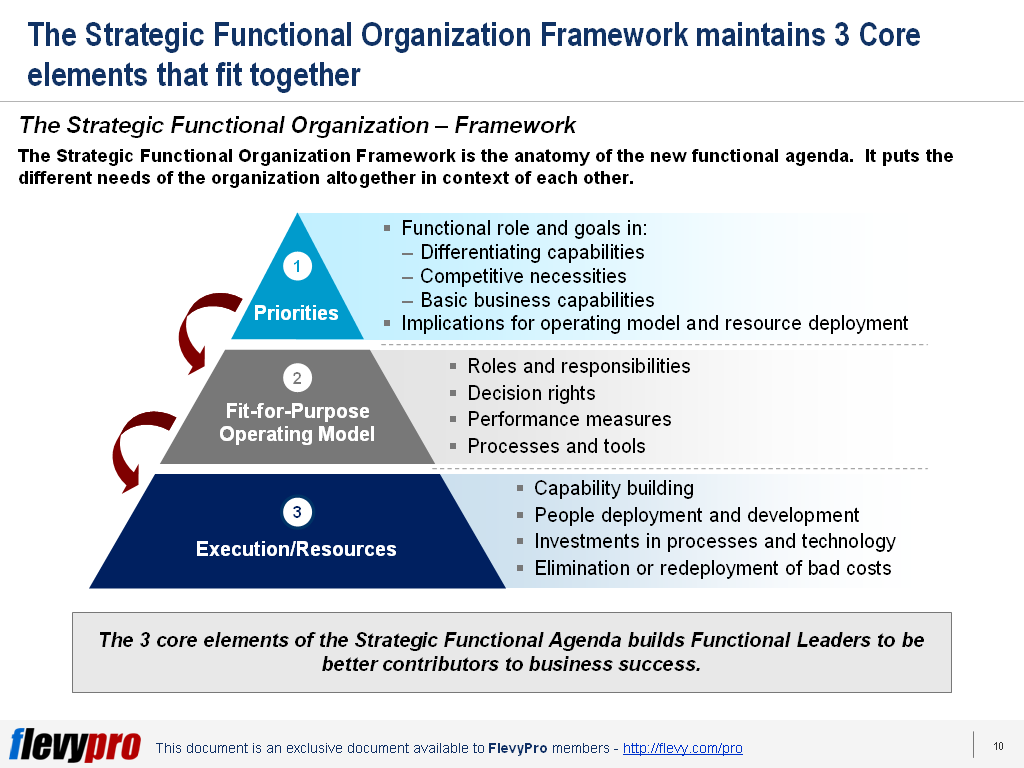 Priorities. The functional agenda must be clearly articulated to support the company's overall strategic mission.  These are the priorities, roles, and activities of the organization.  Having clear and consistent priorities will allow companies to fulfill their strategic imperatives.
Fit-for-Purpose Operating Model. The Fit-for-Purpose Operating Model is essential in delivering value.  This is the company's overall blueprint that spells out how to deliver the most value to the whole organization.  It spells out how functions will work together to ensure the delivery of the greatest value.  It also makes sure that the functional operating model is aligned with the company's overall strategy.
Execution & Resources. The Execution and Resources is the degree of control and the right level of resources and funding that are necessary.  It is at this level that proper monitoring of investments is conducted to maintain the efficiency of scale.  By setting up formal and informal processes for allocating resources, decisions are made for the whole enterprise and not within a functional silo.
Measuring Company's Capabilities
Every function's first priority is to support the company's efforts to build the capabilities to carry out the strategic mission.  This lies in the heart of the value our company delivers. Defining and measuring how much value each function is delivery through activities and initiatives is essential.
Key Performance Indicators must be used to direct Functional Leaders to ensure maximum value creation.   Quantifiable impact, clear drivers of value, cost-effectiveness, and market validation must be used in assessing value.
By measuring functional performance, this focuses on capabilities, resources, and execution on areas that bring the company's strategy to life.
Interested in gaining more understanding of Strategic Functional Organization? You can learn more and download an editable PowerPoint about the Strategic Functional Organization here on the Flevy documents marketplace.
Are you a management consultant?
You can download this and hundreds of other consulting frameworks and consulting training guides from the FlevyPro library.