Execution has become the new watchword in Boardrooms.  As organizations fail to effectively implement strategies, the importance of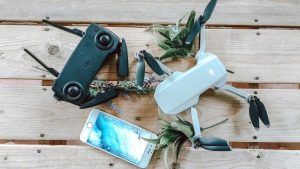 execution has risen to the forefront. Essentially, the first step in resolving these dysfunctions is to understand how the inherent traits of an organization influence and even determine each individual's behavior. Organizations must also understand how collective behavior affects company performance.
The idiosyncratic characteristics of an organization can be codified using the DNA. When the DNA of an organization is purely configured, unhealthy symptoms and counterproductive behaviors are demonstrated.
Understanding the DNA and the Organizational DNA Framework
DNA has been used as a family metaphor to codify the idiosyncratic characteristics of a company.
The Organizational DNA Framework examines all aspects of company architecture, resources, and relationships.  It ensures that managers focus their efforts on reinforcing what works in the organization and modifying what does not. It helps companies identify and expose hidden strengths and entrenched weaknesses.
In identifying unhealthy symptoms and unproductive behavior, the Org DNA Profiler is used as a tool.  It allows management to gain insight into what is and is not working deep inside a highly complex organization.
The Org DNA Profiler, as an Assessment tool, was used to fix problems by identifying and isolating them.  Launched in 2003, the Org DNA Profiler measures an organization's relative strength in 4 Building Blocks on the basis of individual employees' responses to 19 questions.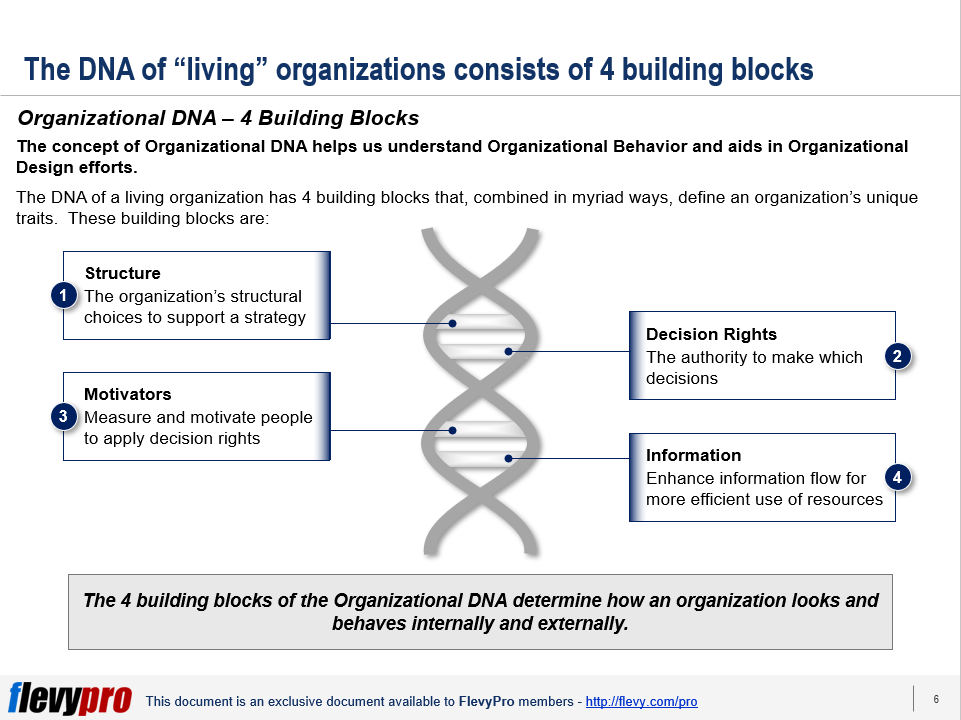 What Type of Organization Do You Have?
When diagnosing and overcoming organizational impediments, there is also a need to identify the type of organization that you have. There are 7 broad types of organizations; each organization fitting a certain type.
There is a Resilient Organization.  A Resilient Organization can adapt quickly to external market shifts.  It can remain steadfastly focused on and aligned with a coherent business strategy.  Resilient Organizations can anticipate changes routinely and addresses them proactively. They can attract motivated team players and offers a stimulating work environment, resources, and authority to solve tough problems.
However, there is also a disadvantage when it comes to Resilient Organizations. Resilient Organizations have the tendency to be overly adapted toward one direction or the other.
Another type of organization is the Just-in-Time Organization. The JIT Organization demonstrated an ability to turn on a dime when necessary, without losing sight of the big picture. They can manage to hold on to good people and performs well financially. A Just-in-Time Organization is a stimulating and challenging place to work.
While this may be a good place to work, it can also have its disadvantages. A Just-in-Time Organization is not proactive in preparing for impending changes. In fact, it has not made a leap from good to great. As such, it tends to miss opportunities by inches rather than miles.  It celebrates successes that are marginal rather than unequivocal.
The third type of organization is the Military Organization. This type of organization succeeds through sheer force of will of top executives. However, it has a shallow and short-lived middle management bench.
There are 4 other types of organizations. There can be the Passive-Aggressive Organization, the Fits-and-Starts Organization, the Outgrown Organization, and the Overmanaged Organization.
The Passive-Aggressive Organization is considered the most prevalent of all types of organizations. The Outgrown and Overmanaged Organizations, on the other hand, are those that are often considered unhealthy.
The intricacies and defining characteristics of the 7 types of organizations are effective in creating specific interventions to enhance performance and execution.  Knowing and understanding the types of organizations can better assist organizations in the analysis of their DNA and guide them in undertaking Business Transformation or Strategy Development.
Interested in gaining more understanding of Organizational DNA? You can learn more and download an editable PowerPoint about Organizational DNA here on the Flevy documents marketplace.
Are you a management consultant?
You can download this and hundreds of other consulting frameworks and consulting training guides from the FlevyPro library.